See No Evil: Three Monkeys Is A Game Of Blindness
Emerging from the dark.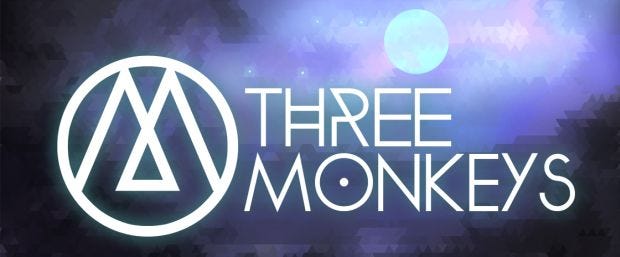 The last game I played that was just based on the player's hearing was The Blind Monk's Society, which I hilariously chose to play because it has no graphics and RPS was protesting SOPA at the time. It was a torturous joke on the blackout, see? The concept was good enough for me to hope that something of its ilk comes along properly, to take sound and build a world with it. I'm happy to report that it Three Monkeys does just that, picking up the notion and running with it. Trailery bits and dev chat beneath.

The game is set in Byzantia, a world cursed into darkness by an evil witch (we need more evil witches and wizards in games). As the hero Tobar, who was born blind, the curse hasn't affected you. It means... well, I don't actually know what it means, other than you're a confident hero in a land of those that can't see. To help you with the quest, you're followed by a foul-mouthed Irish pixie. I expect this is a game that needs to be played in order to fully understand what it's attempting to do. They're attempting to make it interesting to sighted people, as well as those who're impaired.
Here's the background.
And here's a snippet of the game.
Blind Monk's Society worked for a couple of reasons. It was a short game that required a lot of concentration to hear your route through the levels, so if the concept is going to work for a full game then it needs to be a lot more precise, and come with a few more challenges. It was fun to play, but exhausting. The other thing that kept me playing it was the whimsical writing and lovely acting. Three Monkeys is going to need plenty of well-crafted words to keep the player hooked.