Sega and Wargaming cosy up for Total War: Arena
Joining the Wargaming Alliance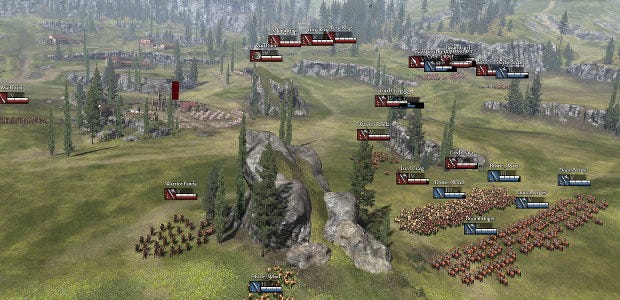 The Creative Assembly's upcoming free-to-play historical rumble Total War: Arena [official site] will be published by Wargaming. The World of Tanks and World of Warships studio have more experience with free-to-play battles, see, and have signed Arena as the first game on their new Wargaming Alliance publishing label. Arena, to remind you, is about 10v10 battles where each player controls several small platoons/patrols/companies of units. No, it's not a MOBA.
Total War: Arena sees ten players fielding a traditional Total War-size army between them, each picking and controlling their own fraction of the forces, then battling in the usual Total War ways for control of objectives. And as the first Wargaming Alliance game, it'll benefit from Wargaming's knowledge, their experts, their players, and their connections.
Wargaming Alliance head Vladimir Makarychev said in today's announcement:
"Through the Wargaming Alliance label we hope to share our knowledge with other companies entering this highly competitive landscape and are extremely excited to partner with Sega and Creative Assembly to ensure Total War: Arena is a resounding success."
I wonder how Wargaming will help shape this particular game. Some grumble about the monetisation in their Worlds of Tanks and Warships but those are both pretty solid games at heart, fun to play. That's important, that. I've played The Creative Assembly's last free-to-play game, Total War Battles: Kingdoms - it's dull. That was them aping a particular type of bland F2P mobile game, mind, and Arena is looking like its own thing.
Sega say this about what the partnership has done for the game:
"While the core mechanics remain the same, following user tests and working closely with Wargaming the game's balance, user interface and more have been redesigned and rebuilt to provide players with a better experience. In the time to come, we'll be providing insight on the various changes we've made."
What we saw of Arena already seemed good. Adam has written about his time playing it in 2014, calling it "A surprise, and a very pleasant one." More words from him:
"The design is good though, taking one component of the parent series and tweaking it in all the right places. It's far more pleasant than the MOBA-esque clash of heroes I suspected I might be stuck with for an hour. It's fast but intelligent, with a good central flow and strategies that are easy to read and implement."
Arena launched into closed alpha in December 2014 and and hit beta soon after, but we've still no clue when it'll enter open beta or properly launch.