Sennheiser's gaming headset biz transforms with frankly terrifying trailer
Scarred for life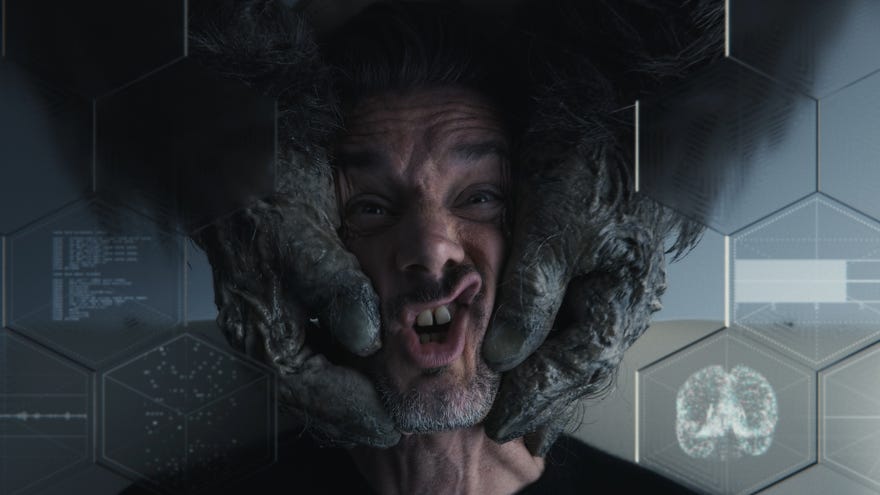 Sennheiser have produced some fantastic gaming headsets over the years, including one of my current favourites, the GSP 370 Wireless. But alas, Sennheiser's gaming division is no more, as their parent company Demant have now spun it out as a separate company called Epos. The name will continue to live on as Epos | Sennheiser on some of their gaming headsets, but we'll also start seeing a new line of premium Epos-only headsets appearing over the next couple of months as well, the first of which is due to arrive this October.
And to celebrate the occasion, Epos have released the world's most terrifying promotional trailer in which an officially certified future man voluntarily gets his eardrums pierced by a giant pair of gorilla fingers. Let me explain.
You see, Epos' big promise is "out of this world gaming audio", and to prove it they've made a very Bladerunner-y promo video full of zippy-sounding electronics, roaring cyber cars and other things they believe require a high-end gaming headset to fully appreciate. Personally, I wasn't able to make it all the way through the video, partly due to the pair of creepy, Shining-esque children that follow the main bloke around, but mostly because there's a moment where a pair of horrifying gorilla hands suddenly appear out of nowhere to massage blokey's head before abruptly PIERCING HIS BRAIN in what I can only assume is a metaphor for mind-blowing audio.
And yes, before you ask, that header image is an officially okayed image I was sent as part of Epos' press release.
Disturbing trailer aside, though, I'm not sure much will really change for us (now frankly terrified) folks on the ground for the time being. Take a quick gander at Epos' Gaming section on their new website, for example, and you'll see their current line-up of new Epos | Sennheiser headsets are very familiar. Heck, they still have the same model names as their old Sennheiser counterparts, such as the GSP 600, and their design is exactly the same, too. The only real difference is that there's now a slightly different logo on the side.
Of course, that could all change once Epos start releasing their own dedicated gaming headsets, but we won't know for sure until Epos release their first one sometime this October. Fingers crossed (oh no) they don't involve any fur or leathery gorilla skin.