Jack in for chum shootyfun with Serious Sam VR co-op
Bring a buddy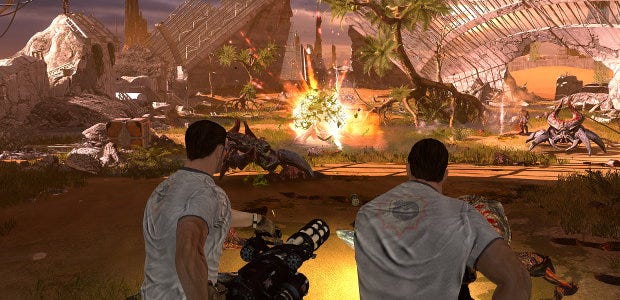 Serious Sam VR [official site], the cybergoggle first-person shooter Alec declared "VR at its most stupid and most brilliant", now has co-op. You and a pal can stand virtuaside by virtuaside waving your arms as imaginary guns, mowing down hordes of monsters. A sensible adult would suggest that you never play in the same room lest violent and terrible accidents occur but mate, come on, play it together and put a video of the ensuing brawl on YouTube for your ol' chum Alice to see.
The co-op update hit last night. It also added two new difficulty modes, 'Tourist' and 'Serious', along with a handful of balance tweaks, bug fixes, and optimisations. Mostly it's about jacking in with a Samfriend to do this:
Here's what Alec said about Serious Sam VR in his roundup of Oculus Touch games:
"It's throwback and dumb as a hatful of dicks, but it's the exact opposite of being transported to a brand new reality, but it is a most excellent party that will help you to feel a whole lot better about your VR hardware if you're in the 'is this it?' doldrums I know I experienced not long after initial launch."
Yup, sure, that sounds good for chumfun. Or strangerfun, I suppose, if you're someone everyone is mooching virtual reality off because they don't want to/can't get their own goggs.
Serious Sam VR is £29.99/36,99€/$39.99 on Steam Early Access.