Bang bang! Serious Sam's Bogus Detour released
Bang!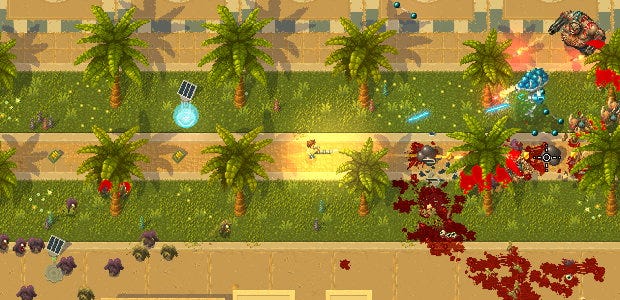 Devolver Digital and Croteam are continuing their experiments in throwing the Serious Sam name at small teams on condition that the resultant game in some way includes: 1) sand; 2) big guns; 3) screaming shirtless men with bombs for hands. This has previously given us such games as the gun-stacking side-scroller Double D and turn-based RPG The Random Encounter. Now Crackshell, the makers of Hammerwatch, have expanded that odd lineup with Serious Sam's Bogus Detour [has launched]. It's a top-down shooter with four-player online co-op and, of course, sand, big guns, and screaming shirtless men with bombs for hands.
Bogus Detour is a top-down shooter with big guns, bigger monsters, and bullets aplenty. Along with a singleplayer campaign, it has cooperative campaign co-op for up to four players, competitive modes for twelve, and a wave survival mode for twelve.
Our John played a preview version earlier this year and liked what he shot:
"What it isn't is original, but having spent a good few hours playing, that's not proving to be an issue. It is about as obvious as you could imagine: you're Sam, somehow cute in pixel form, given an ever-growing arsenal of weapons to shoot at the dozens and dozens of enemies that appear on screen in mighty waves. But in little twisty-turny villages, and around the outside of pyramids, or through lush gardens filled with small buildings. You dodge the frenzy of enemy fire, while spraying out your own, and yeah, that sounds like every other top-down mouse/keyboard or twin-stick top-down shooter. And that works."
With a 10% launch discount, Serious Sam's Bogus Detour is £9.89/13,49€/$13.49 on Steam and GOG. Folks who own Hammerwatch or another Serious Sam game in the same store will get an extra 10% off.