Shoot The Food: Hammerwatch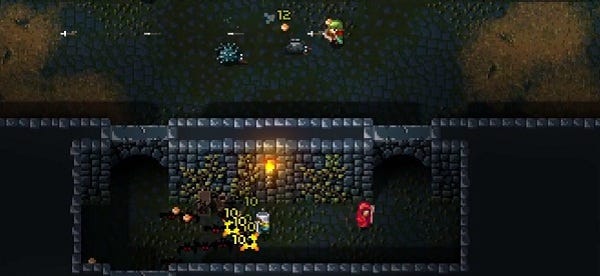 It's the greatest guilt trip in gaming: "Red Valkyrie shot the food". You and your friends are surrounded by skeletons, there are monster spawners in the corners of the room and all the wizard needs to make it through the harrowing battle is a roast chicken. And, oaf that you are, you accidentally shoot the chicken. POOF. It's gone and a voice, morose and sort of resigned to how shit you are, tells everyone exactly who screwed up this time. Gauntlet was great and Hammerwatch is of that mould - a four-person co-operative dungeon crawler, viewed from a top-down perspective. There are bosses, puzzles and editing tools, and there's a public beta in the works. Trailer below.
You can follow development at the TIGForums and vote for the game on Greenlight.
In keeping with the tradition of thoughtful Youtube comments, TheBoxofawesomness asks: "What did you program this in. If any programming was involved in it." Ouch. Even cursory research would have told The Box that the tools and engine are custom-built. So there you go.
Via Evilavatar.