Stealthy Seven Sneaks Out First Trailer
Post-apocalypse parkour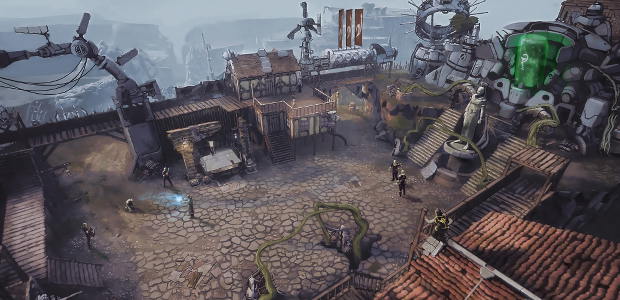 You wait all bloody day for a stealth ninja to show up and then three come at once - what are the odds? With Shadwen, Aragami and Seven [official site] all perched on the development horizon, arms stretched aloft their heads, one knee pulled tight to their chests, it seems the future is shaping up rather nicely for fans of the sleuthing genre. Seven, you may already know, is a Thief-inspired isometric RPG that's being made in collaboration with some former Witcher devs and now has its first trailer.
By way of the folks at IGN, here that is:
Seven's multi-tiered "beyond post-apocalyptic" world looks lovely - and perfect for parkouring, I might add - but beyond all that isometric running, jumping, zip-lining and murdering, exactly what it's all about is a bit unclear. Neither IMGN (the team behind Kholat) nor Fool's Theory (a relatively new studio founded by a few ex-CD Projekt Red fellows) have let much else slip beyond the vague plot synopsis offered via the game's fact sheet. That however doesn't seem to have stopped them from engaging in a bit of preemptive posturing:
"Seven is a Thief-inspired, 3D isometric RPG, in which you take on the role of a lone traveller. You're going to explore a nonlinear, sandbox world - the Empire of Vetrall.

"Classic isometric gameplay is going to be redefined. We have created a parkour climbing system that gives you the ability of free-traversing obstacles, of any height, horizontally and vertically."
Whether it redefines how isometric games function or not remains to be seen, however Seven is a game I'm very much looking forward to seeing more of down the line. Still no word on a release date for now, though.