Shadowrun Devs Release Roguelikelike Necropolis
Rogue-u-like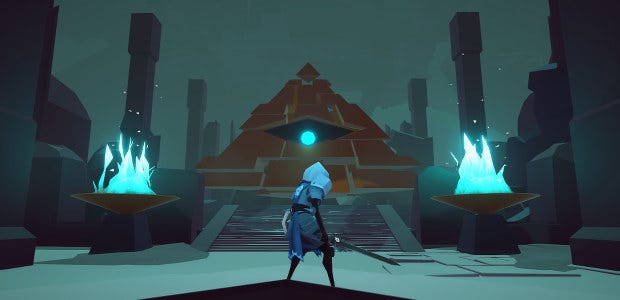 Shadowrun Returns gang Harebrained Schemes have jacked out and dug down into a deathtrap dungeon for their new game, Necropolis [official site], which launched today. It's a hack 'n' slash roguelikelike with support for four-player co-op. Bad news: it's nothing to do with Judge Dredd. Good news: it is something to do with a glowpyramid.
Necropolis sends adventurers into a magical dungeon (which, in a roguelikelike, is of course different every time) to fight monsters and try to escape. Permadeath? Yes. Loot? Yes. Crafting? Yes. Four-player drop-in, drop-out co-op? Ohhh yes.
I really dig its look. Nice clean polygons, those. I am slightly put-off by some of the Steam player reviews saying the combat's a bit bland, though I do like PC Gamer's lukewarm review talking about lots of things being slightly cryptic and unexplained - I like roguelikelikes to have a little mystery. Hmm. Might have a punt if I run out of things to play (ha!). Maybe I'll bug one of those other louts in the RPS treehouse to tell me Wot They Think. You. To tell you. You, dearest reader. You're always on my mind.
Necropolis is about £22.99/27,99€/$29.99 on Steam and GOG.