Shroud Of The Avatar virtuously goes free-to-play today
Yes, he still calls himself Lord British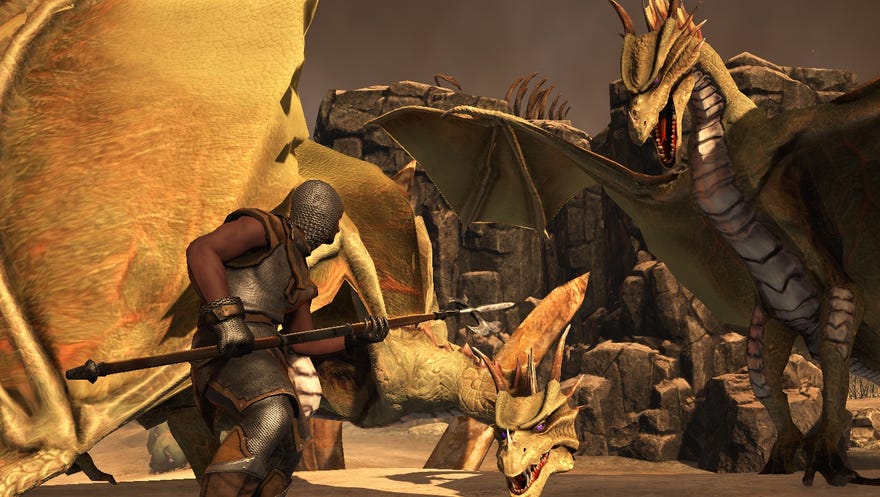 Blimey - Richard Garriot's Ultima successor MMO Shroud Of The Avatar: Forsaken Virtues only launched back in March. Despite leaving early access just seven months ago (to tepid critical response), Portalarium's dragon-bothering epic has now gone free-to-play. This second debut (third, if you count its 2014 early access launch) comes with an overhaul to the game's criticised earlier areas, hopefully making for a smoother ride for newcomers. Below, a trailer featuring dungeoneering, dragon-bothering and jolly online co-operation.
The re-launch of the game is accompanied by a major update. Portalarium say that they've spent the past few months re-working the early game experience. New players are now funnelled through a "focused tutorial area" in the Isle Of Storms, getting all the basics taught and tested before setting folks loose on the game proper. They claim that once out of the tutorial, players should have more freedom as well, being able to choose from one of three starting areas, which are now story-focused instead of additional tutorial slog, and that a lot has come to the game since launch.
Since release in March, Portalarium say they've made significant improvements made to the game. Some of the old technical problems have been hammered out, and quality-of-life features have been implemented or built on. There's now a Looking For Group system (how the game launched without one is beyond me), they've removed experience penalties on death, the game's banking system is now global and - arguably most important - experience gain has been doubled, hopefully reducing grind further. Interestingly there's also player-made dungeons - a curious feature.
While I doubt I have time for another MMO in my life (I try to fit in the occasional bit of Elder Scrolls Online catch-up in there, but there's too many games), I'm curious to see how Shroud Of The Avatar evolves from here. While the move to free-to-play has marked the beginning of the end for some MMOs, it's been a rebirth for others. Star Trek Online is looking stronger than ever despite a wonky launch years ago, and I gather Guild Wars 2 (a game I've drifted away from) is still going strong. I'd not bet either way on this one - games move in strange and mysterious ways.
Shroud Of The Avatar is free-to-play and available on Steam or its official site here.