Steaming: Shroud Of The Avatar Arrives On Early Access
Still far from release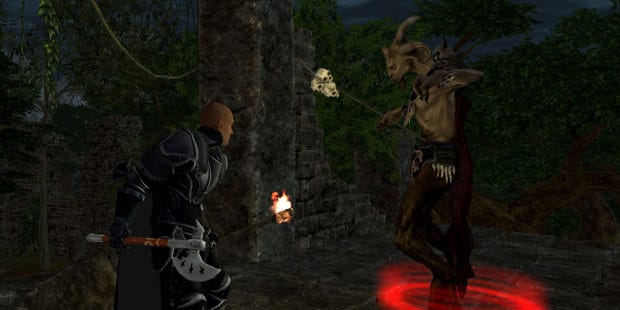 Has it really been ten months since we last posted about Shroud of the Avatar: Forsaken Virtues? Gosh. A new RPG from Ultima creator Richard Garriott seems like something we'd pay a lot more attention to. Why is this? Personally, I was burnt out on opulent Kickstater dreams manifesting as unexciting pre-alpha builds. But of course they'd look ropey. Anyway, what I think matters a whole lot less, as you can form your own opinions by playing Shroud of the Avatar. Yesterday it reached a done-enough state to launch on Steam Early Access.
Developers Portalarium have themselves sold early access for a while now, but now they're seeking a wider audience on Steam. The Steam page notes, "This game still needs a LOT of work, it will be under construction for some time, and data wipes will happen periodically." If you do fancy it, a Steam launch discount of 15% brings Shroud of the Avatar down to £25.49 for the next week.
It seems that Shroud is still very much about its imagined potential, and more than a mite wonky in its current playable state. Everything I've seen looks pretty dull, but Shroud is hoping to follow in the foosteps of Ultima and Ultima Online - can we judge it without a finished game and a stable playerbase to enable all sorts of emergent wonders? Perhaps not, but we can not spend money on it until its final form is clearer. I shan't. I'm notoriously unkind to nostalgia, mind.
Lacking a recent official video, here's something from an enthusiastic player: