Shut Up: Barkley 2 Looks... Good?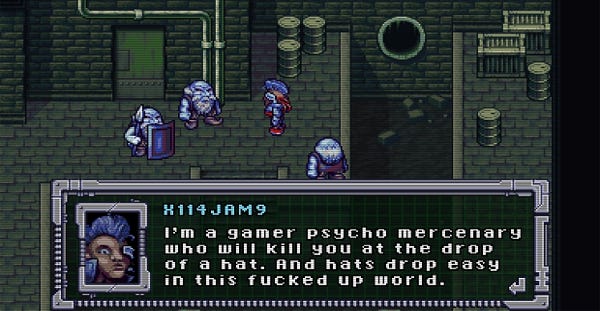 With a name like The Magical Realms of Tír na nÓg: Escape from Necron 7 – Revenge of Cuchulainn: The Official Game of the Movie – Chapter 2 of the Hoopz Barkley SaGa, you'd expect something to be a joke first and a game second. But, like Barkley Shut Up and Jam Gaiden before it, TMROTNN:EFN7-ROC:TOGOTM-C2OTHBS is actually looking like a rather enjoyable game to, you know, play. The genre's entirely different - abandoning the mean, merciless, hardwood courts of JRPG parody for a metallic future motif and gun-heavy mechanics to match - but consider me very interested.
This is all pre-alpha, but it looks to be coming along pretty nicely. Nothing too flashy, but some solid, chunky-looking retro blasting nonetheless. If nothing else, I imagine it'll ferry me between jokes in serviceable style. Also, I'm really looking forward to people walking in and asking, "What's this game about?" so I can retort with, "Duh. Basketball, obviously."
Barkley 2 performed a chaos dunk on Kickstarter late last year, with cash-colored ash raining down to the tune of $120,335. The sequel to what was already one of the silliest parody games ever hopes to up the ante with an open world, plot-shattering choices, and a tale for the ages about wayward jocks, B-Ball-induced comas, and Cyberdwarves.
It'll be out late this year, at which point it will immediately be hailed as the Citizen Kane of videogames. Or at least the Space Jam of games. Probably also Half-Life 12.