Barkley 2's Live Action Trailer Promises Return Of B-Ball
The Hoopz saga continues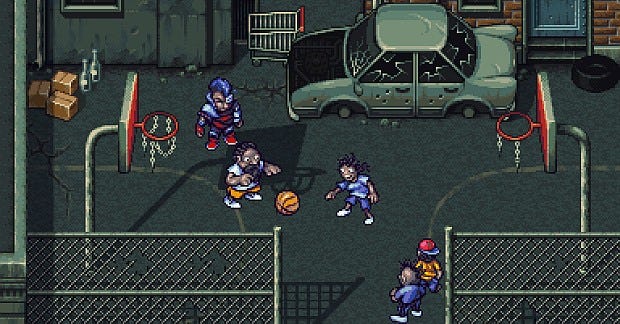 A new live action trailer has been released for The Magical Realms of Tír na nÓg: Escape from Necron 7 – Revenge of Cuchulainn: The Official Game of the Movie – Chapter 2 of the Hoopz Barkley SaGa [official site]. Developers Tale of Game's Kickstarted the sequel in 2012, but this is the first time they've made much of a splash since. It's excellent, you should watch it below, and I'll try to explain what it is.
The original Barkley, Shut Up And Jam: Gaiden [official site] is a free RPG in which real world basketball player Charles Barkley roamed a post-cyberpocalyptic Neo New York, dealing with both the guilt of having destroyed the world with the Chaos Dunk and the murderous pursuit of B-Ball Removal Department that's hunting him. It was funny, surprising, and an inventive and legitimately good RPG.
The first game's greatest strength was in its willingness to over-commit to the stupidest of jokes, such that there is no part of it that is not a joke, and the synopsis for the sequel suggests there's similar ambitions this time around:
"The year is 666X. A powerful youngster, wise beyond his years, awakens from a B-Ball induced coma aboard the mysterious dwarf space ziggurat Necron 7, held captive by the Malevolent A.I. Cuchulainn. With no memory of who he is or where he came from, he adopts the identity of X114JAM9 and sets off into the Post-Cyberpocalyptic Wasteland in search of the enigmatic Cyberdwarf, the only one who can reveal to him the terrible truth behind his forgotten past and make sense of his harrowing future. Barkley 2 is a coming of age story, a story about love, hope, betrayal and redemption. It is a story about identity and sacrifice, a story about wayward jocks struggling for a purpose. It is a story about the trials of our dystopian future and most importantly...

"...it is a story about You."
If you're not familiar with the original, this probably sounds like gibberish - and it is - but it probably also sounds like a garbage try-hard game desperate to pastiche RPGs in lieu of making a good one. I swear that wasn't the case with the first game and I have high hopes for the sequel. The world being based on basketball (and the game Barkley, Shut Up And Jam! and the film Space Jam) gives the whole thing a weird internal consistency that makes it more than the sum of its culture references.
There's still little other information at this stage in terms of new screenshots or not-joke release dates, but the game will be playable at PAX Prime this coming weekend.