Signal Ops Trailer Is Charming, Exciting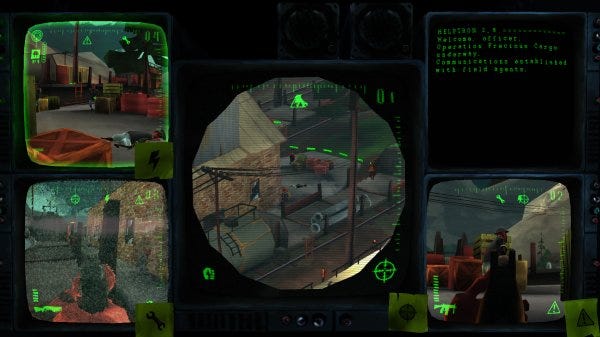 Blimey, I just thought I'd have an idle gander at the Signal Ops announcement trailer (below), and I was quite taken aback. You see, well, if any of you remember Hired Guns (primitive FPS with four screens simultaneously), it's a bit like that but with real-time stealth espionage. There's shades of a bunch of stuff in there, actually, like a caricatured take on the old squad-infiltration games. The indie team behind the game, who are trying to raise funds for its development, have said: "Signal Ops draws inspiration from classic games such as Commandos, Syndicate, and Deus Ex. We like to call it a multi-perspective shooter. While playing you are able to simultaneously see what your entire squad of agents see." The game is all about sabotage and suchlike, therefore demanding planning and cunning, and all those other things that we are all the hell over.
Really, this looks promising. I mean it. Go watch the trailer. Fascinating stuff.