Bizarre billiards adventure Pool Panic gets snookered today
Oddball, corner pocket.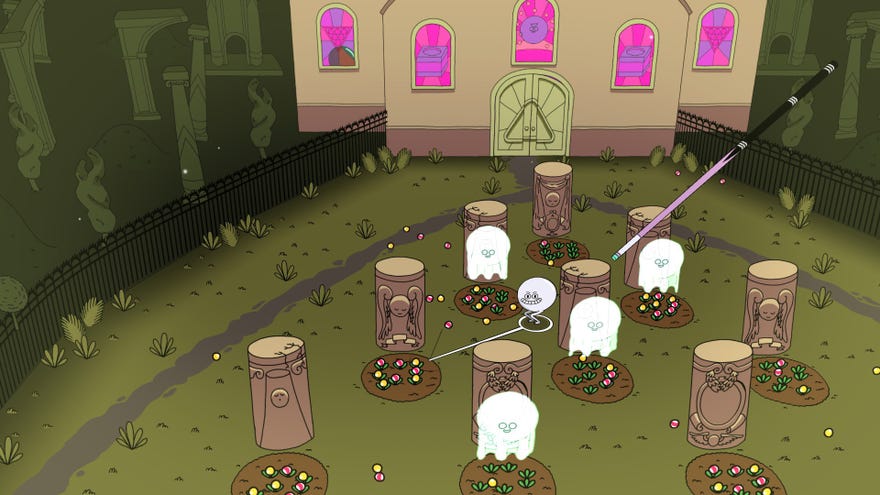 Rekim's endearingly daft action-billiards adventure Pool Panic has rolled out into stores, and immediately into the corner pocket. Billed as "the world's least realistic pool simulator", this bizarre little game has been on my radar for a while. It stretches the rules of pool to breaking point, and from what I've seen on Adult Swim's launch-day stream, it squeezes some interesting ideas out of the tried-and-tested formula of knocking a white ball around a table with a long stick.
Pool Panic may contain holes, balls and cues to smack said balls into holes, but that's just about where its similarities to any real-world game end. In most of Pool Panic's 100+ levels you're free to make your little cue-ball character run around (or drive, or slide) freely around the screen. You use your cue to smack yourself around faster (usually to knock NPC balls into pockets), but the exact nature of the game is continually reinvented, as you can see in the trailer below.
Completing a given stage is usually a matter of dropping all the balls into their appropriate pockets and then diving down one yourself, but everything else is flexible from what I've watched streamed over just the past hour. I've seen a rock-climbing stage where you're trying to swing your ball up to grapple points for its rope, a Qix-like challenge where you cut a wheat field down by shooting through it and even a few puzzles requiring complex interactions with the scenery.
When it comes to playing any manner of cue-to-ball game in the real world, I'm a clumsy mess, but I reckon I might be in with a chance at Pool Panic. It's bright, silly, charming and after watching a good chunk of it being played I want to try it for myself soon.
Pool Panic is out now on Steam for £11.39/€12.49/$14.99.