Get To Work! First The Sims 4 Expansion Announced
An intimidating imperative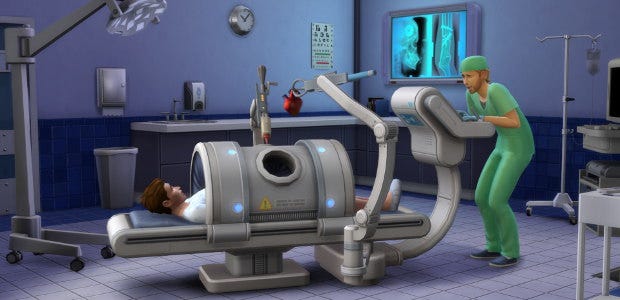 The Sims 4 [official site] was always going to feel a bit empty at launch in comparison to earlier games as they had oodles of expansions by then, and it didn't help that a few long-standing features were absent. Since then they've added back in things like pools and ghosts, released a 'Game Pack' mini-expansion, and now EA have announced the first proper expansion, Get to Work. It adds stuff to do with employment, obvs.
As the announcement blog post explains, Get to Work will bring three new careers: a doctor doing everything from performing surgery to delivering babies, police progression all the way from cadet through detective up to chief, and a scientist inventing weird stuff.
It'll also let players establish and manage businesses in the retail district from bakeries to bookstores. And it adds new skills like baking and photography. I think I'm done repeating the feature list you can read in full that-a-way. Oh, also it adds aliens and an alien dimension. Sure.
It does seem to add more than many Sims 3 expansions did, at least.
Get to Work will cost £29.99 when it arrives in April. I'm sure it'll find fans - it's The chuffing Sims - but if you're coming to the series fresh, I'd probably recommend instead buying The Sims 3 in one of its frequent download sales; £30 there would get you the base game and a handful of expansions. Anywho, have a trailer: