So, Mass Effect 3 Multiplayer Looks Explodey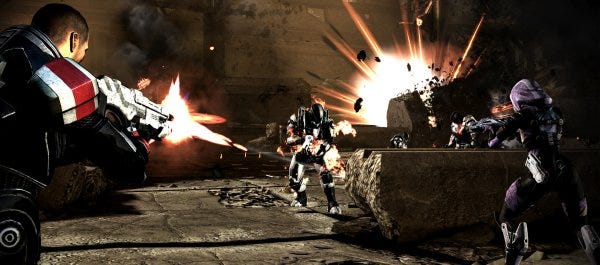 Bioware's white-hot marketing plasma has congealed into a glistening multiplayer combat trailer for Mass Effect 3, which you can see below. In the excitable two-minute sequence, Super-Shep and his surprisingly humanoid alien friends get stuck into a good old clobberin' session. There are quite a few explosions, and the footage is basically designed to show how while one player is shooting the enemy, another can be stabbing it, or blasting it with a grenade, or using their mutant brain energies to turn it into a far less lively version of itself. That'll learn 'em, eh space fans?
Mass Effect 3 will be teleporting star-credits directly out of your wallet on the 6th, 8th, 9th, or 15th of March, depending on which part of the lumpen crust of the planet Earth you are tethered.



Stuff explodes, dudes get kicked: THIS IS WHAT THEY WANT.