Sociable Soccer delayed to next week
Oh balls!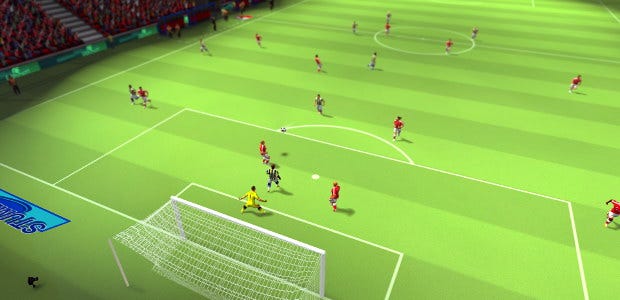 Bad news, gang: the match is off. Unlace your boots, refold your kit, suck up all the flob you've been spitting on the sideline, return the magic sponge to its reliquary, and unslice the half-time oranges. Sociable Soccer [official site], the new arcade kick 'em up from Sensible Soccer co-designer Jon Hare, was due to launch into early access today but it will not. The development team announced this afternoon, several hours before the planned launch, that something has come up and Sociable Soccer is delayed. We'll need to wait until next Friday, October 20th, to get kicking.
The team said in today's announcement:
"We've been working non-stop for the last few months getting Sociable Soccer ready for Steam Early Access. Unfortunately we have hit a last minute bump in the road which means that Sociable Soccer will sadly not be released today on Steam.

"We can say with confidence, though, that Sociable Soccer will now be coming to Early Access next week. The team is extremely disappointed that you won't be able to play the game today but feel the wait will be worth it."
Of course, this means little to people who intended to wait until the game properly launched. The full version is expected in early 2018.
Sociable Soccer is a spiritual successor sort of dealio to Sensible Soccer, Sensible Software's revered '90s kick 'em ups from DOS and the Amiga. Sensible co-founder Jon Hare was artist and co-designer on those, and he's the lead fella behind Sociable Soccer. An attempt to crowdfund this in 2015 ended up cancelled as it was falling short but the devs stuck with it, and here are we. Well, here we almost are. Here we're going. 'Ere we go, 'ere we go, 'ere we go.
'Ere we go, 'ere we go, 'ere we goooOoo.
'Ere we go, 'ere we go, 'ere we go.
'Ere we goOo.
'Ere we go!