Sonic Mania Plus dev diary teases the new Encore mode
Fun fact: SegaSonic was a trackball game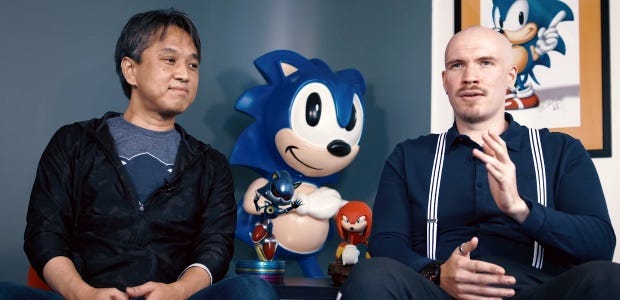 Sonic Mania was a joy - a true return to form for Sega's spiky blue mascot. It's due to get even better later this month. Sonic Mania Plus, is a re-release (available as a $5 upgrade for existing owners) adding two new playable characters from the little-known SegaSonic The Hedgehog arcade game, plus some new content. In the first of a series of developer diaries, we get a peek at the new characters in action. Plus an all-too-brief glimpse at Encore mode; a second loop through the game with new lighting, cutscenes and enemy placement.
The development diary video below is a charming reminder that Sonic Mania was a real cross-generation, east-meets-west collaboration. Many of the folks who made Sonic Mania started out developing Sonic fan-games. As such, it's no surprise that the game was packed full of references to lesser-known Sonic characters, including a Wanted sign featuring Mighty the Armadillo and Ray the Flying Squirrel, who are due to be playable in Sonic Mania Plus.
The video gives us a peek at Encore mode - a second run through the game wrapped in a new pallette, giving the sense that it's a different time of day. The side-by-side clips show the placement of items and powerups are completely different, with more enemies and fewer rings. It's set after the main story, and features new cutscenes, including Sonic rescuing Ray & Mighty. Plus (as spotted in the video by our guides gremlin Dave) a possible proper return to Sonic 3's Angel Island Zone.
Two asides for the Gotta Go Fast crowd: Sonic Mania's project lead - Christian 'Taxman' Whitehead - has done some work for GalaxyTrail's Freedom Planet 2 (demo available), so I've got high hopes for that. Plus, check out the Sonic Mania Adventures series of official animated shorts, which are cute, funny, and bridge the story from the end of Sonic Forces (technically Mania canon) up until the start of the new Encore mode in Mania again.
The Plus upgrade for Sonic Mania (including the new playable characters and Encore mode) will be available on July 17th, and cost $5 for existing owners.