Space Chickens! Humans Must Answer Beta Demo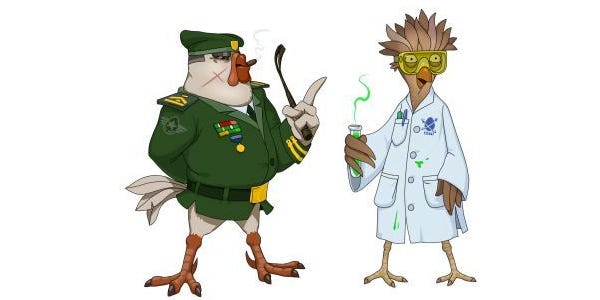 It is not every day that one gets to write about space chickens. But today RPS has scrambled me, Dame Cara of Ellison, to inform you that the lovely space avians at Sumom Games have served their eggchick Humans Must Answer up on a platter for us to have a morsel of. It features Colonel Ram and Professor Bez (pictured) as your guiding companions aboard the shooty-ship The Golden Eagle.


This adorable shmup is shmupping its eggcellent way towards us whether we Kickstart it or not, so to see if you like it enough to provide some eggstra cash for polishing, Sumom Games have provided a Windows only demo (sorry my little MacBook!) so we can assess its eggy merits:
We've released a beta demo and would love for you all to try it out! Please note that nothing is final in this demo and, in fact, we're already making a number of changes and additions based on feedback we've received thus far.

Please go and play it, though, and offer us comments and suggestions based on your first impressions of Humans Must Answer.

There are four levels in total, and a number of the story elements are missing - it will feel like you just jump in and won't know these characters. The main thing to concentrate on is the gameplay at this point, which is an element we're still tweaking and hope to be even smoother soon.

Downloads [WINDOWS ONLY] (Extract .rar first and then double click the .exe):

Dropbox: https://www.dropbox.com/s/22im8gyalc58meu/HMADEMO.rar

Website: http://sumomgames.com/load-HMADEMO.rar

If you encounter a crash upon starting the game up then a solution can be found in the update post.

If that doesn't work then email objora@sumomgames.com with details of the issue. Please include the "Log" from the game root folder too.
My favourite thing about Sumom is that they clearly know how to market to me. "Humans Must Answer is a 2D horizontal shoot 'em up, or shmup for short, set in the distant future. It features lots of explosions." HARD BOILED.
Will they reach their Kickstarter goal? Will they get a yes on Steam Greenlight? Or will they have egg on their face?
I'm so sorry.