Spike The Earth: KeeperRL Alpha
Dungeons and a drag 'n' drop interface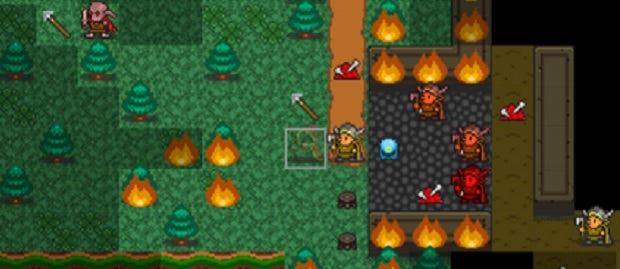 Every morning, my inbox contains at least one email pointing in the direction of a less complicated and/or complex Dwarf Fortress. There was a time when I believed in the dream of an approachable Dwarf Fortress with a friendly interface but I'm starting to think that even the slightest simplification invalidates the comparison. Dwarf Fortress is complexity, of simulation and control, and the games that do have something in common with it often have far more in common with more traditional management sims or roguelike adventures. KeeperRL, sensibly and pleasingly, plays more like top-down Dungeon Keeper than Dwarf Fortress with the edges smoothed and the corners cut. The alpha is available and crowdfunding has begun.
I've spent an hour with the alpha this morning and had a pleasant experience. The interface is simple, even though the tutorial-like guidelines are sometimes slightly vague. Rooms and corridors are constructed by dragging the mouse across areas to mark them for demolition, and tiles can then be designated for use by attaching an icon to them. Workers dig and construct, adding beds, prisons and the other necessary parts of a functional dungeon, and minions can be possessed, giving the player control of their actions.
As in Dwarf Fortress, it's possible to play in an Adventure mode for a traditional roguelike experience. Dungeons can also be retired, leaving them in the world to be conquered by the next adventurer or keeper. Eventually, you'll be able to wage war against your own dungeons by rediscovering them in the world on a subsequent playthrough.
There's an emphasis on combat rather than management, in the current alpha at least. Tactical construction and trap placement took up most of my time this morning.
The plans for the final release are below:
Big, persistent map (about 10 times bigger than now, area-wise), where you can build as many dungeons and play as many adventurers as you like. All the previous Keepers, if they are still alive, are now your enemies.

In-game exchange of maps through an online server. Let other players try to assault your dungeon with their army or an adventurer. Various statistics and a scoreboard of the most deadly dungeons.

Many special locations to explore. Go on quests, recruit more minions and find unique items to boost your black magic.

Much more content: special armor, weapons, items, special attacks, artifacts.

Lot's of work put into balancing and fun gameplay. Big part of this will be listening to user feedback.

Graphics and UI overhaul.

Original soundtrack.

Android port.
I'm impressed by the simplicity of the interface and even at this early stage, I reckon I could happily spend a few more hours carving into the mountain. While I said the game is more Dungeon Keeper than Dwarf Fortress earlier, a good balance may well be struck between the two. Almost $1,000 of the $5,000 target is already in place and with 42 days left to go, KeeperRL should be in full-time production sooner rather than later. Should that be the case, the 1.0 release is expected by the end of the year.