All The Spaceships: Incredible (& Free) Star Swarm Demo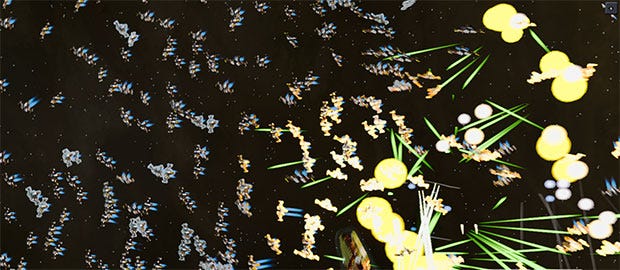 Okay, okay. God. OK. I will finally consider upgrading my processor after five years of this Core i7 920 being just fine. Between Steam Home Streaming needing to encode video eversoquickly and now Oxide/Stardock's Star Swarm offering me the awesome sight of several thousand on-screen spaceships, I am ready to accept that my PC's futureproofed days might at last be behind it. Fasterfasterfaster.
Star Swarm isn't a game. It's a benchmark for a game I want, a space RTS on a massive scale. We saw the video earlier this month, but the actual demo/bench is out now, and it wants to make your PC have a little cry.

The demobench can be grabbed from Steam, but even though it's free it requires activation and that requires either a Stardock account or a torturous text file uploading process. If you can't be buggered with all of that, here's the gist of it:
That there is the Nitrous engine, which will be used for assorted Oxide and/or Stardock games of the future. including a Star Control reboot. I'm going to go out on a space limb and guess that a Sins of a Solar empire sequel using it is in the offing too.
Anyway, for now we must dream, aided by the proud sight of ENORMOUS SPACE WAR on our monitors. Now to spend far too much time trying to establish which motherboard I need/can afford.