Star Trek Online Open Beta Imminent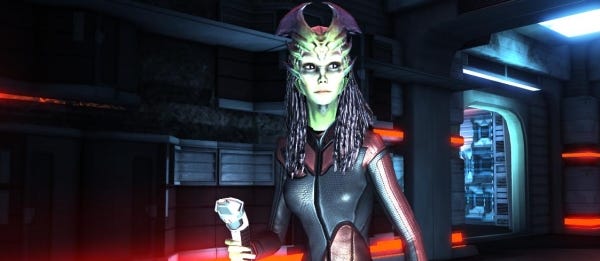 Set cliches to cliche, something about beaming, where no sentence has gone before. Cornish pasties for heads. Red jumpers. There - that meets the government required minimum quantity of Star Trek references, and a fine is once more avoided.
The big news is: Star Trek Open Beta opens today (12th Jan) at 10am PST (2am proper time), letting all sorts of riff-raff into the universe.
This follows what is now the usual format. If you've pre-ordered the game you'll have a code. Or there's an as-yet unnamed number of "partners" who'll be dishing them out in the next few days. Stick it in the game's site and from tomorrow you'll be able to create yourself a character and have a good old explore. It's running from now until the 26th, and presuming nothing catastrophic occurs, will then open up for headstart customers on the 29th, and go completely live on the 2nd Feb. If you've been lucky enough to have been in the closed beta your characters will have been wiped. Which means we've lost Fugly. Sniff.
And now because I love you, here's a Klingon-focused trailer for the game, with lots of asplosions: