Star Wars: Rogue Squadron 3D headlines Amazon Prime's May freebies
Along with 14 other games including Lake, Planescape Torment, and Agatha Knife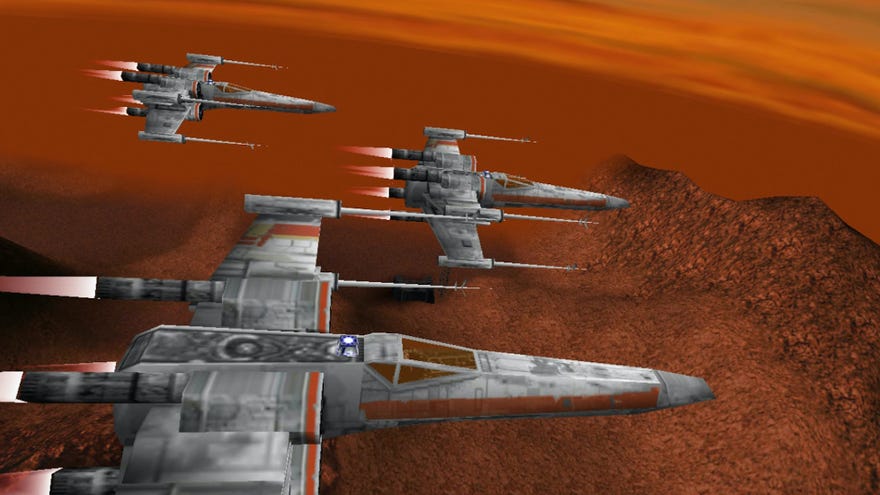 May is on the horizon and that can mean only one thing: Star Wars Day of course. To celebrate May the 4th (be with you), Amazon Prime are giving away 15 games to subscribers over the next month, with the flight combat sim Star Wars: Rogue Squadron 3D leading the pack of freebies. Every single Thursday a new batch of free games will be available to claim, so take a look at the lineup below.
Starting on May 4th, you can jump into the rebel cockpit as Luke Skywalker and battle through space-based levels, as well as iconic planets from the Star Wars films in Rogue Squadron 3D. Sports game Super Sidekicks and fighter Samurai Showdown IV round out that week's titles.
From May 11th, you can grab beat 'em up Robo Army, co-op shooter Last Resort, and the delightful postal delivery sim Lake for free. Remastered classic Planescape Torment: Enhanced Edition is the week's last giveaway, and it's still one of the very best RPGs around.
The next week of May 18th brings shopkeeping sim Kardboard Kings, chill dioramic puzzler The Almost Gone, arcade game Alpha Mission 2, and wrestling game 3 Count Bount.
The month's freebies end on the week beginning May 25th with two more arcade fighting games: King Of The Monsters 2 and Kizuna Encounter. A grindark adventure game about a little girl who creates her own carnivorous religion is next with Agatha Knife, and poetic puzzler Lila's Sky Ark is also free to keep that week.
With Star Wars Jedi: Survivor on the horizon, most subscribers will probably have their eyes fixed on Rogue Squadrons to get their farfaraway fix. I'd recommend checking out Lake though. Driving around a compact open world, delivering mail, and befriending rural weirdos is surprisingly calming. Best of all, following traffic rules is perhaps the most heart-pounding experience you can have in GTA, and Lake has about six hours worth of that fun.
You can claim May's lineup over on Amazon Prime Gaming where you can also get free content for some live service games - if you've subscribed.