Starcraft II: Footage, Strange Decisions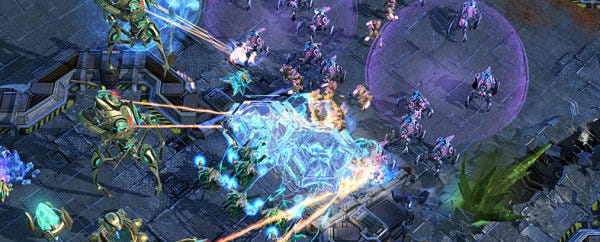 UPDATE: This story on VG247 suggests that they really mean it: no LAN support of any kind. Bananas.
An abundance of Starcraft II stuff has appeared on the grainy info screens of RPS HQ, including project lead Dustin Browder saying that the beta is set to last "four to six months". Which means they'll be right up against it if they're aiming to get the game out before Christmas. In rather more bizarre news, Blizzardian hyperboss Rob Pardo has said that that the game won't support a LAN option, and that the decision not to include it "is because of the planned technology to be incorporated into Battle.net." Which presumably means they are going to support play over a local network, but you'll still need to be online and logged into Battlenet on individual accounts to play. Maybe. I could be quite, quite wrong.
Seven minutes of footage - watch those tiny dudes eviscerate! - courtesy of Joystiq, below.