Stardew Valley dev's mysterious next game is set on the same planet
MYSTERIOUS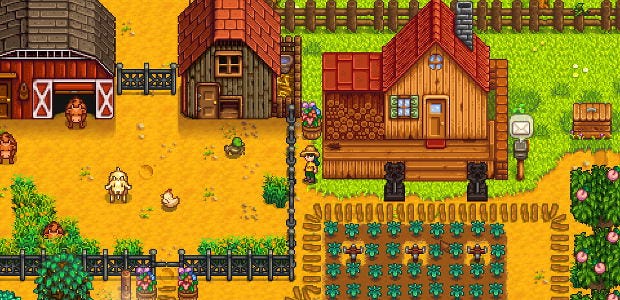 The creator of Stardew Valley [official site] has opened up a little about plans for his next game, something mysterious that's set on the same planet as Stardew but is not a sequel. Don't expect to hear juicy details from Eric 'ConcernedApe' Barone any time soon because he's avoiding building heaps of hype but he does say that, similar to Stardew Valley, it will likely pick up another game or genre with space to explore and take it in his own direction.
Asked about ideas for his next game during a a Q&A session on Reddit yesterday, Barone explained:
"I don't want to reveal too much at this point, but I am thinking of approaching my next game with a similar mindset to Stardew Valley -- take a style of game that was never fully realized (or that changed trajectories, leaving unexplored possibilities), and carry on the tradition in my own weird way."
Stardew Valley drew heavy inspiration from the Harvest Moon games but took that farming life in a different and delightful direction. Whatever this is, it will at least be on that same planet.
As for whether he'll make more of actual Stardew Valley, he said "I haven't made any plans yet as to whether there will be a Stardew Valley sequel or more content."
Do remember that online multiplayer is coming to Stardew Valley, being worked on by publishers Chucklefish. Last we heard, they expected to launch it in early 2018. An unofficial mod is already out with multiplayer support, but it is a little wonky. Chucklefish are tapping into some of that Stardew spirit with their witch school RPG codenamed Spellbound.
Whatever Barone does, we likely won't hear much for a while. He said:
"I have plans for my next game, but I don't want to reveal anything for a while... creating hype too far in advance is a lot of pressure, and ultimately I don't think it benefits anyone. I prefer to work in an isolated bubble."
Hey, whatever you're happy with. So rather than poke and speculate, I'll say we gave Stardew Valley a glowing review and declared it one of the most relaxing games. For more, do check out Paul Dean's reflections on Stardew and his own life and Holly Nielsen waving her farm goodbye to start over.