Heavens! Stardock To Publish Demigod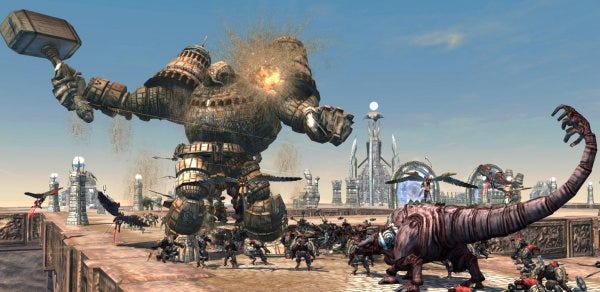 This is an interesting one. Gas Powered Games' deity-bashing RTS, Demigod, which we previewed a few weeks ago, is to be published by Stardock. The game will now arrive in 2009, and will feature no DRM at all. Fancy that.
Full release details after the jump.

Stardock, Gas Powered Games Partner For Upcoming Demigod

- Demigod to Feature No On-Disc Copy Protection; Set to Launch February 2009 -

PLYMOUTH, MI - April 7, 2008 - Stardock and Gas Powered Games announced today that they have reached a publishing agreement for Gas Powered Games' upcoming PC game, Demigod.

Demigod is a team-based action game with RTS and RPG elements. Players take control of a massive Demigod with the goal of annihilating their opponent's position in a given arena while preventing the opponent's Demigod from doing the same to them. Although the game supports superb one-on-one duels, the title will truly shine in team play either with other human-controlled Demigods or with ones controlled by a sophisticated computer AI. As the game progresses, the player's Demigod will acquire items, attributes and experience.

Gas Powered Games, having become one of the leading PC game developers with hit titles such as Dungeon Siege and Supreme Commander chose Stardock as its exclusive worldwide PC publisher in part because of Stardock's tremendous success with the award-winning Sins of a Solar Empire and Galactic Civilizations.

"Forging our new partnership with Stardock is a big deal for all of us at GPG, and we couldn't be more excited about it," said Chris Taylor, founder and CEO of Gas Powered Games. "Not only do we have a proven retail publisher, but we get to partner with a pioneer in the digital distribution space… a company that totally understands what kind of experience our customer wants and the quality game they demand. The whole proposition is truly refreshing."

Stardock's most recent release, Sins of a Solar Empire was the top selling PC strategy game at retail according to NPD, and the second highest selling PC game overall despite selling immense numbers of copies digitally which are not counted in sales rankings. The game has received universally high reviews in the media and many have noted how seamlessly Stardock and developer Ironclad worked together.

"We're very excited at the opportunity to work with Gas Powered Games," said Brad Wardell, president and CEO of Stardock. "By integrating our teams and working together, we will be able to create something that represents the best of both teams."

To fully support a public beta that will launch this summer, the launch date for Demigod has been moved to February 2009. This will give the development team sufficient time to incorporate feedback from the beta players while polishing the game. Like Stardock's other games, Demigod will be released without any on-disc copy protection and has been budgeted to receive many months of free post-release feature updates.

The official website for Demigod is in the works, but users who want to begin discussing the game can visit http://www.demigodthegame.com.