Nvidia's RTX 2080 fails to make a dent on Steam's September hardware charts
The GTX 1060 remains the most popular graphics card by a country mile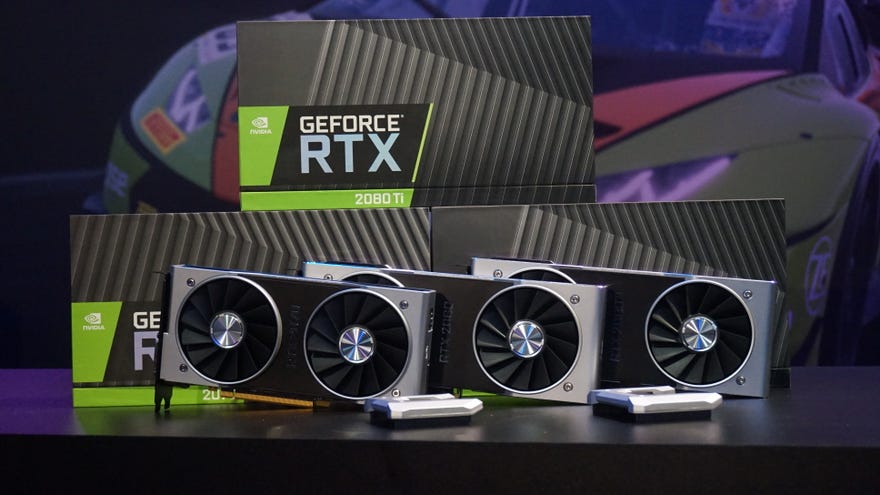 Valve released a fresh batch of Steam hardware stats last night, detailing the most popular components used by participating survey filler-inners. Surprise, surprise, Nvidia's GeForce RTX 2080 and RTX 2080Ti are nowhere to be seen on its graphics card list. Instead, PC peeps seem to be doubling down on cards at the other end of the price spectrum, with the GTX 1060, GTX 1050Ti and GTX 1050 claiming the top three positions for a combined usage share of 29.12%.
For the nth month in a row, the GTX 1060 (our graphics card recommendation for 1080p and 1440p gaming alike) once again claims the lion's share of that figure, sitting inside 14.29% of Steam users' PCs. That's an increase of 0.53% month-on-month, which is the second largest jump in ownership for the month of September. The biggest usage increase went to the GTX 1050Ti which rose a whopping 0.96% since August's hardware survey to claim a total share of 9.7%. The regular GTX 1050, meanwhile, rose 0.28% month-on-month to a 5.13% share.
Things continue to look rather bleak on the AMD graphics card front, too. The first AMD card on Valve's list is simply listed as AMD Radeon R7 Graphics with a total share of 0.91% (which is actually down 0.04% month-on-month), while the second is AMD Radeon R5 Graphics with 0.71% (also down 0.01% month-on-month). The RX 480 is the third-highest AMD card with 0.62% (down 0.04% month-on-month), and it's not until you get several places further down that the RX 580 comes in with a share of 0.47%. On a positive note, the RX 580's share actually grew 0.03% since August, but it remains a far cry from the 14% share of its Nvidia rival.
Elsewhere, Intel continues their lead in the CPU department, gaining 0.35% to take their September share to a whopping 83.89% over AMD's 0.36% month-on-month fall to 16.08%, and 1920x1080 remains the most popular resolution with a share of 62.06%, rising 1.4% month-on-month. The only other resolutions that showed any growth were ultrawide ones, with 2560x1080 and 3440x1080 growing by 0.1% apiece since August. English is also the most used language on Steam with 37.23% (up 0.36% since August), following by Simplified Chinese (up 1.22% to 26.38%) and Russian (down 0.32% to 10.67%).
As such, your average Steam PC looks something like this: it's a Windows 10 machine with a quad-core Intel CPU clocked somewhere between 3.3GHz and 3.69GHz, and it has 8GB of RAM, an Nvidia GeForce GTX 1060 graphics card and over 1TB of total hard drive space, of which between 250GB and 499GB is currently free. They also have a 1920x1080 resolution monitor as their primary screen, as well as a second 1920x1080 display to give them a total multi-monitor desktop resolution of 3840x1080. Does that sound like your PC? If so, you're in good company.