Stomp Stomp Stompolution: McPixel Dev's Stomp It Up
Stomp stomp stomp stomp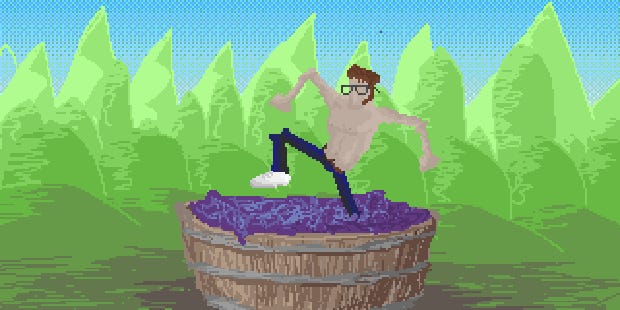 McPixel is a wonderful little jolt of a game, as much an excuse for silly things to happen as it is a puzzle game. McPixeleer Sos Sosowski's latest game skips straight to the silliness, with none of that slouching nonsense. Stomp It Up is made to be played on a dance mat. Oh sure, but can play on keyboard if you don't have one on hand, but tapping away won't be nearly the same as jumping and stomping along to the enervating and highly irritating soundtrack.
Stomp It Up's a freebie clearly made with events in. Like McPixel, it's a series of little scenes, but here (almost) every solution involves stomping or other frenetic limb movements. Stomp on a board to break it. Stomp to blow up an inflatable duck. Stomp an Irish jig. Stomp on ant nest. Waggle your arms and legs to drive a car like Enviro-Bear 2000. Stomp on a giant mousetrap. Nail a pirouette on ice skates. Stop stomping to not disturb a bird. Stomp out a crop circle. Stomp on some LEGO blocks.
Stomping is as simple as stomping on the right dance mat buttons or -- yeesh, you're really insistent about this -- mashing the correct keyboard keys. Stomping. It's a game about stomping. You stomp.
If you're looking for a cheap dance mat, I recommend grabbing one of the many Xbox 360 dancing games that shops are trying desperately to offload because they take up so much space and are worth so little. My flatmate and I bought several copies of Dancing Stage Universe 2 so we could run games like Mega GIRP at The Wild Rumpus. Not many PC games use them, sure, but ones that do are a right lark all right.
(Disclosure: I did once work with Sos on the Doom Piano, in that I made the ugly monitor shroud while other people did the real work.)