Storybook strategy sim Six Ages 2 treks to PC this summer
King Of Dragon Pass's spiritual successor gets its own actual successor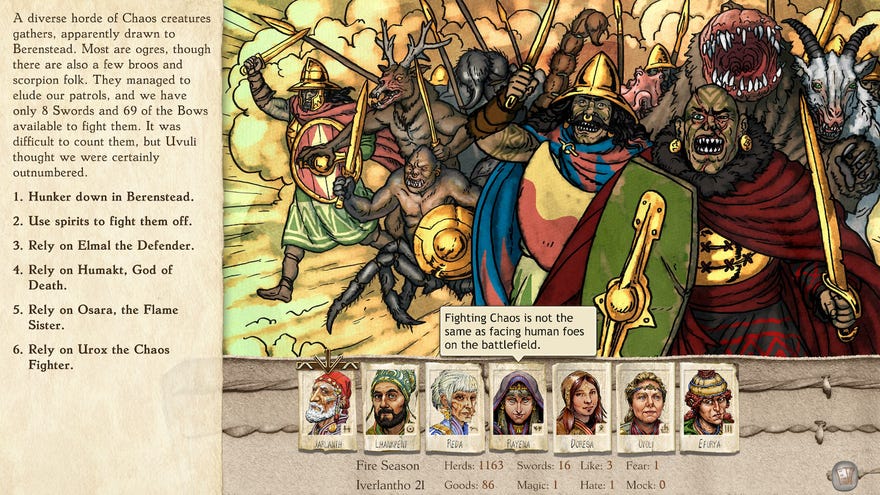 Storybook strategy sim Six Ages: Ride Like The Wind was a spiritual successor to 1999's cult classic King Of Dragon Pass, created by some of that game's former developers. Six Ages is now receiving its own proper successor later this summer, developer A Sharp and publisher Kitfox have announced. Just like its predecessor, Six Ages 2: Lights Going Out is a blend of tribal management and choose your own adventure drills, all wrapped up in some gorgeous fantasy illustrations.
Six Ages is set in the long-running fantasy world of Glorantha which also hosts stories from RuneQuest and Dragon Pass, although this time around the world is facing an existential crisis. Ten generations have passed since the first Six Ages and a couple old Gods have died in the meantime, leaving humanity in a not-ideal situation. Six Ages 2 is a standalone story, but you'll still be able to import saves from the first game. Unless that means importing a save that's gone horribly wrong, in which case it's probably best to start afresh.
The sequel is also promising to be "immensely replayable, with over 500 interactive scenes," say the developers, all of which can vary based on the outcomes of difficult decisions and turn-based battles. I've never played Six Ages or King Of Dragon Pass, but from what I understand, the strategic element in these games is quite grounded. Rather than chasing ballooning numbers for resources, you're instead focusing on the needs of individual people in your tribe, who care about things like tradition, culture, and morality. You'll be settling spiritual disputes, trading with (or raiding) neighbours, and doing anything to ensure your clan's survival.
Sin Vega enjoyed Six Ages a lot. She also chronicled the joys of being a petty jerk in the game as well: "I founded the Red Paper clan with one goal in mind: to be the clan of the rudest, pettiest people in the entire valley," she wrote. What follows is a series of multi-year rivalries and innocent tribal bullying, perfectly showcasing the emergent storytelling that can be found in the series.
Six Ages 2: Lights Going Out will launch on Steam later this summer.