Sunset Overdrive rated for a Windows PC release by the ESRB
One last sunrise before it sets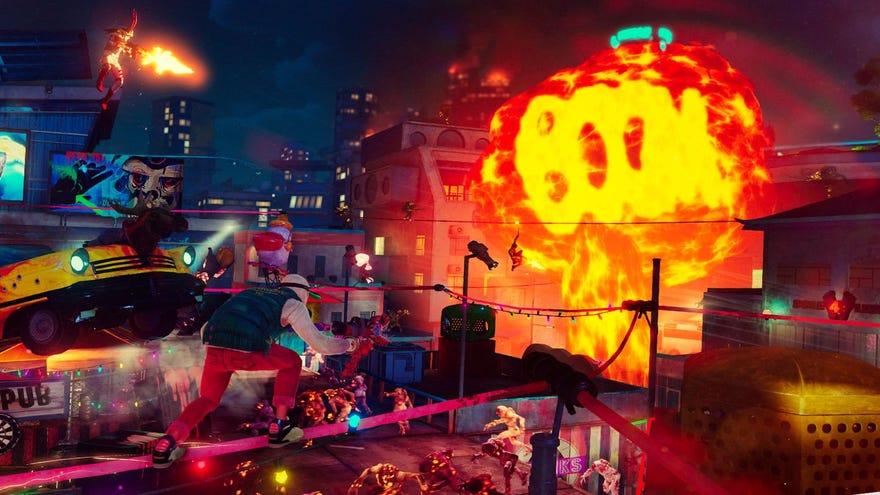 The gap between PC and Xbox grows slimmer, as the ESRB have officially rated Insominac's lurid comedy shooter Sunset Overdrive for a PC launch. One of the Xbox One's more notable early exclusives, it's a third-person shooter set during a mutant apocalypse (caused by an evil energy drink), but with some of Jet Set Radio's style and fun rail-grinding traversal. It's pretty much Ratchet & Clank, but with swearing, gore, a trick combo system, and somehow even more colours. Below, the original console launch trailer, featuring a very cheerful end of the world.
Sunset Overdrive's very existence feels almost cynical. Almost. Being home to Gears of War, the Xbox 360 gained a reputation as being the place for 'next-gen' grey-brown desaturated art. Insomniac seemed insistent on pushing hard against that in their Xbox One debut, using ALL the colours and splattering them on everything. Other games have faint white highlights to indicate surfaces you can grab. Sunset Overdrive paints its grind-rails (and power lines) hot neon shades. It's pure cartoon stupidity, and I'd be happy to see it looking even better and smoother on PC.
Normally an ESRB rating would be a strong hint at something, but Gematsu also spotted a Korean PC version rating being assigned to the game back in May. Those two combined are just shy of an official announcement - it's more a matter of 'when' than 'if' now. The ESRB rating itself is amusing too, taking the game's silly swearing, daft jokes about drugs, 'sex burgers' and more out of context and presenting them in the most dry and businesslike fashion possible. Such is the nature of ratings boards, but the filthier things get, the funnier these are to read.
Interestingly, Sunset Overdrive is already part of the Xbox Game Pass subscription - a service currently available on PC, but only for a limited handful of games. Microsoft have said (see PC Gamer here) that they wanted to make the service more complete on the PC side of things, and bringing over one of the Xbox One's most distinct exclusives would be a good step in that direction. You can find Sunset Overdrive on the Microsoft Store here. If this is part of Microsoft's push to expand the Game Pass subscription, expect this one to be a Windows 10 elusive.