Super Hydorah blasts out today
Pew pew!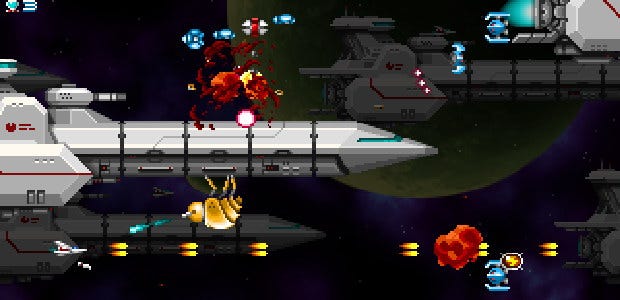 Swell shoot 'em up Hydorah returns today, expanded as Super Hydorah [official site]. As bad at shmups as I am, I did enjoy Hydorah's side-scrolling action and weird locations. The Super version isn't massively different but it is fleshed out and fancied up, and the 2010 original is free so heck, it's hard to complain about a £9 price tag. Hydorah is the creation of Locomalito, whose fine freeware Ghosts 'n' Goblins-ish platformer Maldita Castilla was similarly revamp-o-rereleased last year.
Hydorah is, I'm told, inspired by vintage shmups like Gradius, R-Type, Darius, and Turrican. I wouldn't know about that but I can tell you it's a side-on autoscrolling shmup with a selection of weapons powered up by collectibles, some interesting environmental hazards, neat and unusual bosses, and difficulty that made me mutter and frown a whole lot because I'm a big fool. I have never finished it.
The Super version builds on that with revamped graphics and sounds, two-player local cooperative multiplayer, a little minigame, five new levels, five new bosses, thirty-odd new enemies, one of those oh-so-trendy CRT monitor filters (optional), and more music from Gryzor87.
Super Hydorah is out on Steam for £8.99/€11.99/$11.99. Abylight Studios are the gang who picked this up for the commercial release.
The original Hydorah is still free from Locomalito, by the way.