Super Mega Baseball 4 will launch this summer with a roster of former pros
The first to be published by EA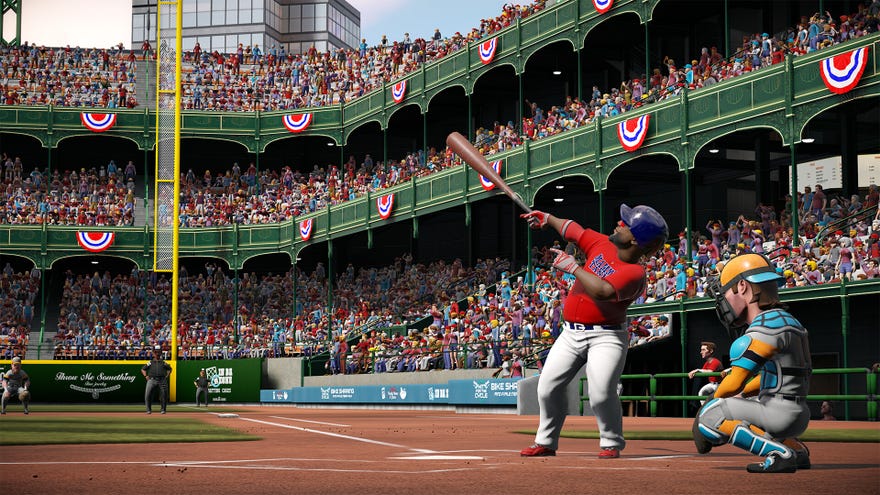 Each game in the Super Mega Baseball series strips the sport back to its fundamentals: pitching, batting, and making its big-headed players cry. That makes it a baseball series that someone with no understanding of the sport can enjoy - and I would know.
Now Super Mega Baseball 4 has been announced, and for the first time it's got a roster of pros to play with - or former pros, at least.
Here's the announcement trailer:
Previous SMB games have featured caricatured fictional players, like a baseball version of the Hurricanes (our champion spirit is here to stay). SMB4 breaks tradition by also including "more than 200 larger-than-life versions of fan-favorite former pros". It includes a few names even I'm familiar with, including Babe Ruth, Jose Bautista and David Ortiz, and many more that I'm not.
Super Mega Baseball 4 also features a "presentation upgrade", with new stadiums and animations, an expanded trait and Team Chemistry system, and expanded cross-platform multiplayer.
The inclusion of licensed pros might not be a surprise when you consider that in 2021, Super Mega Baseball developers Metalhead Software were bought by EA. EA previously made the MVP Baseball series in the early 2000s, until 2K Sports grabbed the exclusive Major League Baseball license in 2005. They released MLB games until 2013, and today the MLB license is used for Sony's MLB The Show series. Those games aren't available on PC, but their control of the license will be why Super Mega Baseball leans on former and not current pros. Here's hoping EA maintain the frothy fun of a sports series with "super mega" in the title, and don't try to launch Super Mega Ultimate Team.
Super Mega Baseball 4 will release on June 2nd, and is up on Steam now.