Surprise! Prey 2 Confirmed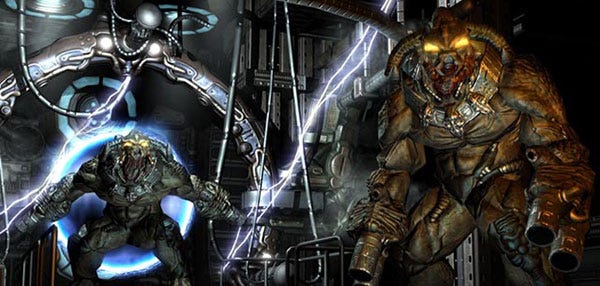 We've been hearing all manner of rumours about this over the last week, and now official word has arrived. By which I mean "an email." Games journalism: not always rocket science.
Yes, Bethesda Softworks are going to publish a game called Hunted this year, and then a game called Prey 2 next year. Hooray! They sure do like their hunting and preying, though. What next? Victim? Target? Assassinee? Bloke What Is Running Away From Another Bloke What Is Trying To Kill Or Eat Him Or Something?

Indeed yes, the id Tech 4 (the Doom 3 engine) powered 2006 shooter is due a sequel. 2012, same devs (Human Head) and it sounds as thought it'll be using id's spanky new Rage/id Tech 5 engine. It was being rumoured back as far as 2008, but whether it's at all related to that planned version remains to be seen.
"We are thrilled to be working with Bethesda on Prey 2," said Chris Rhinehart, project lead. "Prey 2 will provide gamers the opportunity to explore a new facet of the Prey universe, one that offers fast-paced action in an open, alien world. We're excited to show gamers the title we have been working on and hope they will be as excited by this title as we are."
Chris Rhinehart - there's a name. if he wasn't a game dev, he'd surely be some sort of country musician, or a heroic knight.
That's all we know about Prey 2 so far, I'm afraid. Gizza pic, like. Updates are promised on the Book of Faces soon.