Survivalish: Day One: Garry's Incident
A far cry from Far Cry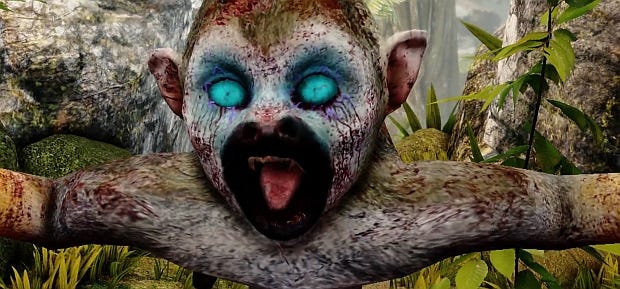 Day One Garry's Incident needs a better name. "Garry" is already known in the game world, and then there's the whole "Incident" thing. I've watched the trailer for the survival FPS and that's putting it mildly, so I've helpfully come up with a few suggestions: "Amazonian Zombie Face Tossers", "Whoops, I Blew Up Your Pyramid", "Ahhhh! The Top's Come Off The Mountain", "Go To Hell, Monkeys!", "Panther Wrestling", or perhaps just "Tomb Raider Already Did It (Working Title)". If from that you've surmised it's a survival game set in a jungle with Mayan influences, you'd be completely correct. The trailer will fill in the rest of the gaps for you.

It's a bit cheap looking, but it has a B-Movie charm to it at least. The jungle is apparently an open world where you can hunt and camp in, and the puzzle levels are separate dungeons that forward the story. It promises a survival game where you start with nothing and have to craft everything, hunt panthers for meat, and untangle an alien mystery.
It was originally intended to be an episodic game, and while I can't find any mention of that on the official site, there's a developer here saying they decided to consolidate everything into one game. It will be released September 25th.