Looking Glass / Irrational Does System Shock 2 Live
Look at youse hackers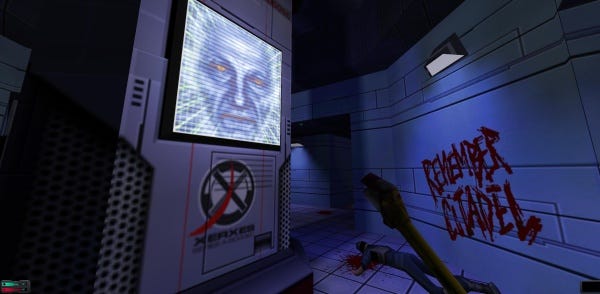 Even a few years ago, the idea of getting to watch assorted Looking Glass and Irrational alumni play and talk through revered sci-fi immersive sim System Shock 2 sounded like an absurd fantasy. Twitch and Twitter, whatever else they might be throwing at the world, have broken down so many barriers. For instance: two of hours of System Shock 2, with live commentary provided by the likes of BioShock's Ken Levine, Gone Home's Steve Gaynor and Ultima Underworld's Paul Neurath (not to mention all the other landmark games those guys worked on).

There's a lot of nostalgia, a lot of immersive sim and RPG design talk and a lot of frankness here, though sadly the audio quality's all over the place. Various other special guests fall in and out of the cast too - it's a chaotic but fascinating watch/listen.
This little classic PC gaming get-together is in the name of promotion Looking Glass co-founder Paul Neurath's new project, spiritual Ultima Underworld sequel Underworld Ascendant, which aims to recreate some of the values seen in System Shock 2. The subterranean RPG is currently some $25k short of its $600k Kickstarter target. It seems likely it will make it, but there must be some raggedy fingernails and squeaky bums at Otherside Entertainment right now. Best of luck to them. They told us a whole bunch about what they've got planned for it here.