System Shock Remake Kickstarter Is Live, Has A Demo
Time to reboot!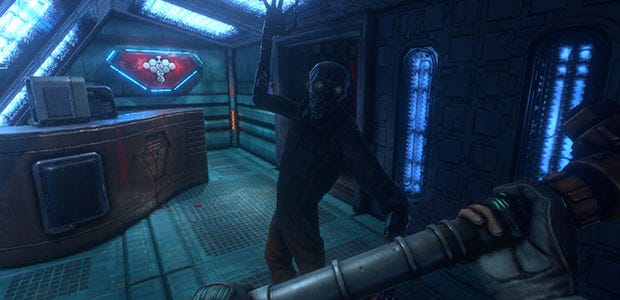 We've talked about it a lot recently, but the reboot of System Shock [official site] is coming — and it's going to need a bit of help through Kickstarter in order to make it. Developers Night Dive Studios are looking for a tidy $900,000 (about £675,000) in order to make their complete remake of System Shock a (hopefully) terrifying reality, and there's even a nifty little demo you can play to help you make up your mind.
First and foremost, go download the demo from Steam or GOG before you do anything else. This remake of System Shock is doing more than just updating the look and feel, but will also keep "true to the classic experience, keeping all the things you loved, while updating the user interface and graphics to use a modern day engine (Unity)." The project has also enlisted Chris Avellone of Fallout 2, Knights of the Old Republic 2, and other great RPG fame to help bring System Shock back to life.
This reboot also promises "re-imagined enemies, weapons, and locations by original concept artist Robb Waters" in addition to Terri Brosius, the original voice of SHODAN, reclaiming her role with all new VO being recorded. Oh, and a brand new musical score. The user interface is also getting touched up along with enemies and puzzles "to reflect modern aesthetics and sensibilities while maintaining the feel of the original."
In asking for goal Night Dive Studios is also casting a spotlight on some of the changes we can expect from this reboot. Some of the more interesting stretch goals include Night Dive promising to add "new crew members and record new audio logs to be discovered in never before seen areas of Citadel Station" at $1.3 million. For $100,000 more, there's updates to the core design including vending machines, crafting and upgrading, and a true RPG leveling system. Higher stretch goals include a full orchestral score, additional scenario and death mechanics, and a remix of the original soundtrack provided as an extra for those above the $30 tier. Finally, there seems to be even higher goals reaching up into the $2-plus million range that are hidden. SECRETS!
You're going to need $30 to earn a digital copy of the game through Steam, GOG, or the Humble store. Higher tiers start reasonable, like physical deluxe versions of the game to being able to have your corpse found in-game with your own personalized data log. Oh, and if you want to party with the developers that'll run you a cool $10 grand. No biggie.
If you're unable to download the demo right now, you can watch System Shock in action thanks to Polygon:
Originally announced back in November, System Shock Remastered is now simply called System Shock. Night Dive Studios CEO Stephen Kick told Polygon that they "felt that the amount of passion and resources that we are putting into this game elevated it beyond the expectations that someone would have for a remaster. This is a full-fledged reboot of a classic game into something new."
This reboot of System Shock also comes in addition to System Shock 3, currently being developed by Otherside Entertainment. That project has Warren Spector (yay!) and Looking Glass co-founder Paul Neurath behind it, making it perhaps even more exciting than the System Shock Kickstarter itself? You decide.
Anyway, back to the Kickstarter, despite how exciting this is, I do feel the need to be the grump in the room and remind everyone that Kickstarting is dangerous for your wallet and is no way a guarantee that said game will be good or even come out. But whether you decide to heed my gentle warning is up to you. Either way, I can't help but feel a tinge excited. Okay, more than just a tinge. Very. I'm very excited.