Tactical RPG Krater Begins Testing Signup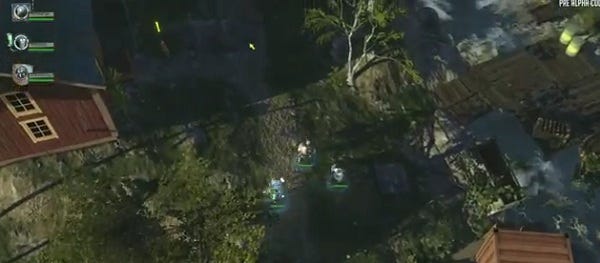 A top-down RPG with crafting, tactical combat, single player or cooperative squad control, and the possibility of permanent injury or death. That's the early word on Krater, which we've learnt a little more about since first seeing evidence of its existence. Some thoughts on that below, along with a teeny snippet of in-game footage. There are also testing signups ongoing, which you can find out about here.
That doesn't clarify a huge amount, although I do now know that numbers will fly out of peoples' faces when they are shot. Among the things I'm still unsure about is the mission structure, as talk of rotating squad members and mission selection is suggestive of a menu-based system rather than discovery of tasks in-world.
Combat is being built around a Baldur's Gate type system, with a slow-paced approach that makes skill and inventory management more important than clicks per second. At present, there's no pausing although the devs have suggested that it may be added for single player.
More people should be invited to join the testing process next weekend. It seems to be primarily a check of online features, which are a focus, despite the single player campaign being the central component. Here's that signup link again.