Cardboardinatus! Talisman: The Horus Heresy Released
WH40k spin-off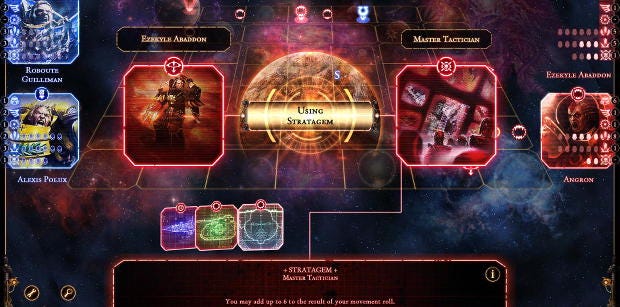 Rab has plenty of praise for the cardboard version of Talisman, a board game of exploring a world and powering up across quests and battles. The game's gone digital too, thanks to developers Nomad Games, and now they've made Talisman so very, very PC gaming by boshing in Warhammer 40,0000.
Freshly released this morning is Talisman: The Horus Hersey [official site]. It's a spin-off using the Talisman rules as a base for a galaxy-trotting retelling of that time in 40k lore when an angry warteen and his mates duffed up their wardad.
The Horus Hersey gives players command of a Space Marine legion on either the loyalist or traitor side. While regular Talisman focuses on individual adventurers, as I understand it, The Horus Heresy gives folks big armies of Space Marines, tanks, spaceships, and all that. It has local and online multiplayer for up to four players, along with AI opponents for friendless throwdowns.
Talisman: The Horus Hersey is £17.09 on Steam, including a 10% launch discount - and folks who own Talisman: Digital Edition get an extra 5% off.
Somewhat unpleasantly, £5 of DLC is here on launch day in the form of two character packs. You can take the Space Marine out the Games Workshop shop, but you can't yadda yadda. (The GW shop in Edinburgh is now simply named 'Warhammer' but look, this post will become unbalanced if I get too into test run rebrandings.)