Tannenberg charges into early access, continuing Verdun's WW1 FPS action
Chaaarge!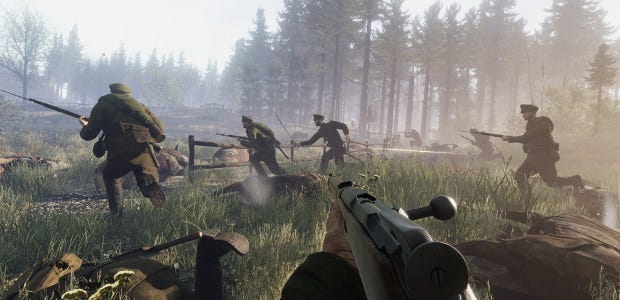 World War 2 is all the rage again but for those who favour classic conflicts, not their 'bigger and deadlier than ever' sequels, World War 1 games are still kicking. The creators of WW1 Western Front FPS Verdun today launched the Eastern Front standalone expansion Tannenberg into early access. Tannenberg focuses on 'realistic' action and ramps it up with a new 64-player mode (Verdun caps out at 40 players). Here, have a peek in the early access launch trailer:
So! It's World War 1 and Russian, Austro-Hungarian, and German soldiers are kicking the heck out of each other. We step into their boots to endlessly continue the simulated kickings. Like Verdun before it, Tannenberg is a relatively realistic FPS more in the vein of Red Orchestra and whatnot rather than your Calls of Duty.
Beyond showing the other side of the war, Tannenberg introduces the new 64-player mode Maneuver. That has folks charging around big maps, trying to capture and hold objectives.
Made by Blackmill games and M2H, Tannenberg costs £14/€18/$18 on Steam Early Access. It also offers a 20% discount for Verdun owners until December 1st.
The full and finished launch is broadly slated for "early 2018." Features the des are working on during early access include a new user interface, improved performance, better sounds, and a way to switch between Tannenberg and Verdun in-game. The devs say they're not done with Verdun either, and will carry some of Tannenberg's improvements back over to it.