Team Sonic Racing coming from Sonic & All-Stars devs
Parp parp!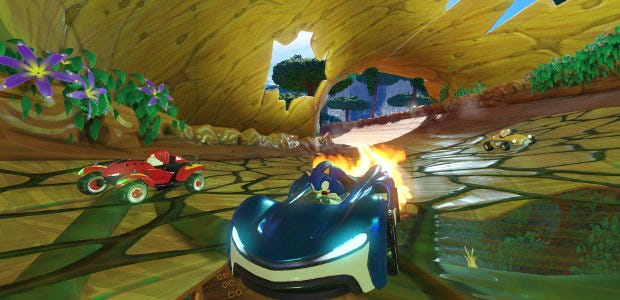 Sonic is trading in his power sneakers for driving brogues again with a new kart racing game, Team Sonic Racing. Sega today announced the racer, which is coming this winter from Sumo Digital - the folks behind the unreasonably good Sonic & All-Stars Racing Transformed. Sadly, it seems Team Sonic Racing probably isn't another big wacky Sega crossover but hey, it is more racing from Sumo.
Sega rattle off a list of features include 12-player online and 4-player splitscreen races across various modes, team races including special moves and 'Team Ultimate', an 'Adventure Mode' with a story that also serves as a tutorial of sorts, and car customisation. Sumo's last Sonic was a good'un, so good, let's continue with more.
Amr Al-Aaser recently looked back at Sonic & All-Stars Racing Transformed for us, concluding that "Despite initially seeming like another entry in the crowded space of mascot racers, Sonic & All-Stars Racing Transformed manages to synthesize the legacy of other arcade racers into its own unique form."
But it does sound like Team Sonic Racing will be Sonic-only, as Sega say it'll have "15 playable characters from across the Sonic Universe." While they haven't confirmed the full lineup, I do see Sonic, Tails, Knuckles, and Shadow in screenshots for starters. Ah, but it'd be a shame to turn away from the weird crossover of All-Stars. Its racers include Shenmue star Ryo Hazuki riding old Sega arcade cabinets, the eponymous Football Manager in a luxury car, the Crazy Taxi driver, and warmen from Company Of Heroes 2 and Total War: Rome II in dinky warcars.
Are there even 15 Sonic characters? I mean, I know there are 637,641 named Sonic characters across all the games, comics, novels, and cartoons, but they're mostly irritants or nobodies. Ah well! Maybe Sega are holding surprises for future marketing blastoramas. E3 is coming, and the game is still a fair while away.
Team Sonic Racing is coming to Steam "this winter", so some time before March 19, 2019. For now, hey, it also has a site (which seems to be down?). And this trailer: