Tears Or Triumphs: SuperBike TT For The Oculus Rift
Aims from Kickstarter finish line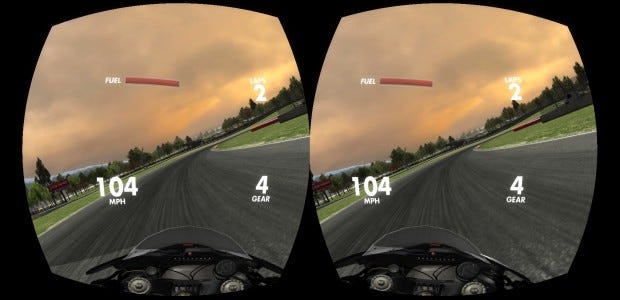 (It should be noted this story was written moments before the Facebook/Oculus announcement.) We already know the Oculus Rift is the perfect tool for immersing players within cockpits, but I was unsure until I played SuperBike TT whether they might similarly benefit motorbikes. The narrow straddle-rockets can cause problems with positional awareness even without a head-mounted display, but the indie project currently on both Greenlight and Kickstarter suggests threading the racing line in VR could be thrilling.
Just as soon as there's a Rift headset available which doesn't blur your vision like a drunkard, anyway. Video below.
Motorcycle racing games are few and far between for some reason, but it increasingly seems as if the Rift's power lies in genre revival as much as it does virtual reality. The Rift lets SuperBike TT work in first-person rather than third, and neatly trimming corners and angling from side to side feels right in a way it doesn't in third-person, and maybe even feels better than performing the equivalent from the safety of an internal chair while driving a virtual reality car.
The trouble at the moment is that the DK1, the only presently available Rift prototype, still has problems with positional tracking and screen refresh rate. At the high speeds a racing game has to operate, unfettered by a grounding metal cage, SuperBike TT made me feel queasy pretty quickly. More so than other games I've played. It's obviously a game targeting the eventual consumer version of the Rift, which may well render those complaints moot, but it's a thing to bear in mind before you consider pledging to its midway, underfunded Kickstarter project.
Of course, if you've already got a Rift, you can try it yourself. (If you don't have a Rift, you can still play it; it'll just appear as two eyeball-shaped screens on your monitor). You just need to download the early demo from this direct download link and give it a whirl.