Techland's Hellraid Helldelayed To 2014
Player feedback sez 'nuh-uh'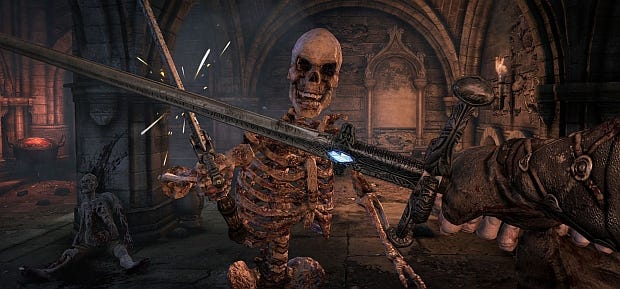 Hellraid is the next violence-mare due from the e'er unpredictable Techland stable, and it is some manner of first-person sword-stabbing game. Whether it would join the ranks of the vanishingly few effective first-person melee games was something we were due to find out in the few remaining weeks of 2013. No longer! Techland have pushed it back to next year, in the wake of mixed tester feedback. In other words, they want to make the knob bits not-knob.
On top of that, there's the simple-if-nebulous issue of polish. Er, I mean as in making the game suitably shiny and robust, rather than making a weird swipe at the nationality of Techland. "If we released our game this year," says game producer Marcin Kruczkiewicz, "we would have to make too many compromises and the final product probably wouldn't meet all our promises and players' expectations." Those are words a certain Mr Peter M should probably get engraved on his desk.
Mostly the delay's down to player gripes in closed testing. "For example we want to redesign the magic system to make it even more powerful and diverse, add new ways of casting spells and a set of new, more visually stunning spells," reveals Kruczkiewicz. The team wants to use this additional time also to add new gameplay features and game modes which should make the game even more entertaining for both single player and 4-player co-op."
No specific 2014 date has been given, instead simply the infamous phrase "when it's done." The delay sounds like a good thing, especially as Techland do have something of a spotty history when it comes to the release state of their games. I believe they're directly publishing this one themselves, in digital sort of way, which hopefully frees them from certain deadline pressures in order to genuinely get the thing right.
Here's what the rather noisy Hellraid looks like; from afar it's the bastard son of Dead Island and Painkiller, but we shall see. In 2014. Probably.