Tex Is Back: Project Fedora Receives Its Funding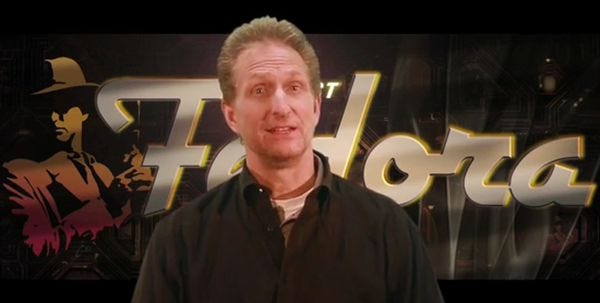 So Tex Murphy will be back. The Kickstarter for the FMV adventure series' return, Project Fedora, looked wobbly for a while, especially when aiming for a mighty $450,000, but with some pretty inventive updating they've managed to tiptoe over the line with still over a week to go.
I have to say I'm delighted about this one. I loved the Tex Murphy games, as much as my attempts to play them today always end after about four minutes of frustration with the horrible engine. The idea of a brand new edition, in an engine that doesn't require DOSBOX and the remainder of my ground-away teeth, sounds very appealing.
Following a little story where Tex was kidnapped came a project called The Magnificent 7. The former was intended to get them to 4,500 backers, which they claimed was a number they needed to convince some anonymous "high donors" to take part in the latter. Each time another $6k was added, one of these high donors would add in another $4k. This leapfrogging was intended to help them reach the total by next Monday. But as with so many internethings, it happened far more quickly than expected, the total ticking over Thursday morning. And the crazy thing is, as I write this a bit earlier this afternoon than when you're reading it, they don't even know they did it yet! They're asleep, and will wake up to the news.
I think this has been an exemplary example of how to do a Kickstarter, creating fun, silly events to encourage people to donate, without going insanely overboard on the updates. (The Magnificent 7 thing was a touch annoying for those receiving the emails, but mostly because they weren't expecting it to happen that quickly.) I'm sure we'll see an update very soon adding on some stretch goals to the front page, as they see just how much more they can raise in the last week.