That Was Fast: Crawl, NIKO, 48 Others Greenlit
Walk before you can Crawl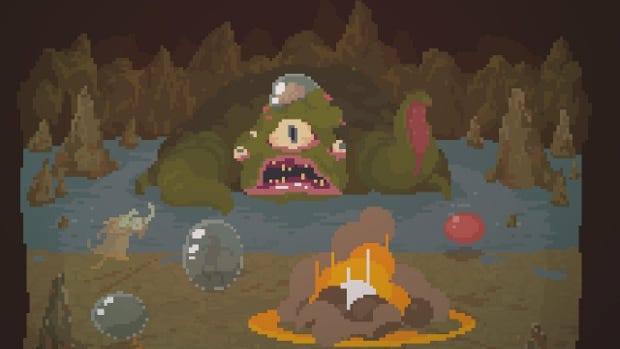 Seems like only yesterday that we were posting about Crawl's spiffy new hot-pink-emblazoned Steam Greenlight page, and that's because it was. In what has to be some kind of record, it's already emerged from Valve's crowd-run dungeon with keys to the Steam kingdom in hand. Why, before you know it, Crawl will probably be learning to drive, graduating from college, and serving minimal time for its first white collar crime. They grow up so fast. Other standouts from this week's 50-strong Greenlight selection include NIKO: Through The Dream and open-world horror-thon Memories of A Fisherman.
Here's the full list, courtesy of Valve's kindly update elves:
100% Orange Juice
18 Wheels of Steel: Extreme Trucker 2
Age of Blood: The Scourge
Atajrubah
Backstage Pass
Crawl
Crio-Dead:Memory
Decadence
Diadra Empty
Dino Storm
Disrupt
Doom & Destiny
Fall Weiss
Fleish & Cherry in Crazy Hotel
FreeFall Tournament
Gang Beasts
Grow
HuniePop
HyperSonic 4
KLASH: Psychic Warfare
Livalink
LogicBots
Lost Squad
Lucent Heart
Magicians & Looters
Memories of a Fisherman
Monstrum
My Lands
NIKO: Through The Dream
NOWHERE
Paper Dungeons
Prison Tycoon Alcatraz
Project Temporality
Red Goddess
ReVeN
Rift Rush
Robot Rescue Revolution
Sierra Ops
Star Rift
Steel Armor - Blaze of War
Strategic War in Europe
Super Chibi Knight
Telepath Tactics
The Curse of Blackwater
THE DARK TRIAD: DRAGON'S DEATH
Vampire Hurts
Vendetta Online
Volt
Wildlife Park 3
ZED - Absolution
The games are many, but the ones I have any more than a passing familiarity with are sadly few. Crawl looks incredible, NIKO alluringly mysterious, and Memories of a Fisherman promisingly ambitious, but beyond that there's... uhhhhh. Oh, hm, Fleish & Cherry in Crazy Hotel looks like a madly detailed throwback to ancient Disney animation, and Atajrubah is about Arabian folklore and architecture. Those could turn out interesting.
Also, there's 18 Wheels of Steel: Extreme Trucker 2, which quite obviously wears its trucker hat on its sleeve. Can it unseat Euro Truck Simulator 2 as the most quietly evocative piece of art gaming has ever produced? Time will tell, but regardless I think someone needs to install a truck stop in the Louvre stat.
See anything you like? See anything you despise with every last screeching fiber of your black heart? Also, what's still missing? Has anything - both recent or older - slipped through Greenlight's abyssal cracks?