THAT'S NOT TRUE, THAT'S: UNPOSSIBLE
Wheeeeeeeee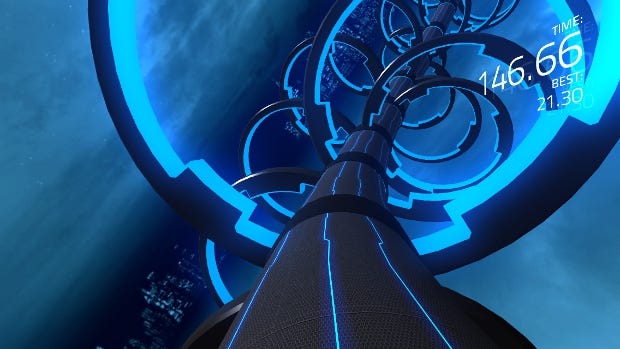 Unpossible is maybe the single worst videogame name I've ever heard. Well, as far as games without a rowdy army of colons, semicolons, dashes, slashes, and subtitles go. The game itself looks like a heck of a ride, though. The spiraling loops of a (good) 3D Sonic The Hedgehog or perhaps Audiosurf fused with Super Hexagon's frenetic difficulty. Cinemamatron (sometimes known as a video) below.
Unpossible's goal? To make you upset. But also occasionally happy. Like this:
"Unpossible will test your skills, your reflexes, and even your memory. It will make you smile. It will probably make you scream. You will die often and it will always be your fault. Fight to learn the obstacles…they already know how to fight you. Relentless. Thrilling. Unpossible!"
UNPOSSIBLE. KIM UNPOSSIBLE.
It'll have multiple unlockable difficulty modes, but the most intriguing feature is a set of Spelunky-style daily levels with their own special achievements. Also, there's a zen-like zone-out mode that developer Acceleroto recommends hanging on your wall. Games are art! Finally!
Unpossible will be out sometime this summer. It's on Steam Greenlight for now, though. Will it get one of your precious (read: infinite) thumbs?