The Beautiful Game: Inside OutRun 2006: Coast 2 Coast
Can Cars Be Art?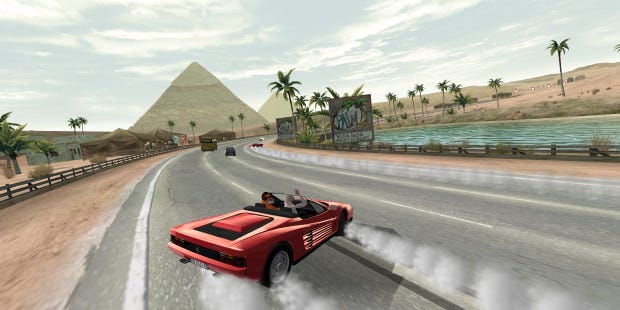 This is the latest in the series of articles about the art technology of games, in collaboration with the particularly handsome Dead End Thrills.
How better to celebrate 25 years of Mega Drive than on a site dedicated to PC games, via a game synonymous with Xbox-powered coin-ops? Not so fast, RPS! This copy of the seldom-bought PC version of OutRun 2006: Coast 2 Coast protects this feature. [Holds up empty hand.] No, wait, these copies! [Turns to empty shelf.] Aha! These copies! [Fires up empty web page.] Nngh! They were right here! Get this straightjacket off me!
Okay, so it's not actually possible to buy this game any more due to expired Ferrari licensing. Not that it matters here. There's always a fistful of reasons to talk about OutRun, not just the coincidence of Mega Drive's birthday which I only heard about this morning.
Before Sumo Digital mapped the Sega genome with Sonic & Allstars Racing Transformed, tapping all its memories of busy beaches, noisy arcades, tumbling coins and rasterised joy, it first had to decipher OutRun, perhaps the greatest of all Sega IP. Whenever I fire the game up on PC, PSP, or in a modern arcade I wish I wasn't in, I want to know what it found. How are these timeless, immaculate driving games built?
Let's ask the guys at Sumo - art director Darren Mills, studio director Paul Porter, art manager Dominic Hood, and producer Steve Lycett - who talk specifically about OutRun 2.
Darren Mills: The whole thing about OutRun is that it's the beautiful journey. That was the tag line, and it's about getting the best-looking visuals in that game you can possibly get while still rendering them in realtime, given the limitations of the platform at the time.
Paul Porter: It's built like a film set. It's amazing, really - as long as you've got the camera pointed in the right direction, everything looks perfect and pristine. But if you allowed the camera to turn around at all, you'd see that everything was just cardboard fascias.
Mills: When we had to do the original OutRun 2, our brief was to put it on Xbox. It was already running on the Chihiro arcade board which essentially was an Xbox with double the memory, and they'd used every bit of it, or so they thought.
That technique that they used, the fact that it is like a film set, just panels all over the place, made it possible. You couldn't have built those worlds the way you would build a world now and hoped for it to look anything like as good or run at anything more than two frames per second.
Porter: I'll never forget when we wanted to add more content to the game. One of the things we wanted to do was reverse the tracks. The look on the Japanese faces: 'You want to reverse the tracks. Are you crazy?' We were like, 'Ah, but we'll change the chevrons and it'll be--' 'No. No you won't.' And you look and it's like, 'Aaah, so we're going to have to reposition everything.'
DET: How meticulous is the track design?
Dominic Hood: They only build what is necessary for the game, and that was an eye-opener for me as a European artist. We tend to obsess about details that get lost sometimes, but everything they did is to maximum effect from the point of view of the car. It's brilliant.
Steve Lycett: I work with Dom a lot, and what Dom likes to do is drive around the track and get the free camera out, and point it in every possible direction he can see. The side-effect of that is that you end up putting a lot of detail into places where you may not see it. This is something we had to learn when doing the first Allstars game. What it means for OutRun is that they'll have to have got the car behaviour right and the camera right right at the bloody start. Start with that and you'll know what you can see, and then you know where to put the objects to make the views.
Hood: It's the beauty of their construction. Everything is perfect curves, the curves generate the collision, the collision generates the track. It's such a simple method.
Lycett: And it's very mathematical. If you ever get a track and look from a top-down point of view, every curve is always perfectly either 30 degrees or 60 degrees or 45 degrees. It was done like that very specifically because, when you look at it, they must have wanted a drift of a certain amount of time, looking in a particular direction at a certain piece of scenery. When you think about it, it's actually quite difficult to get together that handling, visuals and gameplay rhythm quite so well. They must have iterated a lot on the tracks before they even built the artwork.
Mills: There was one level in particular - I can't remember the name but it's a forest level - where you were surrounded by trees. And we saw that level and straight away went, 'God, how have they done that?' There was just so much. It was essentially just a tunnel, this entire level, with boards placed in exact positions to get the effect. And in that whole track you never actually saw a vista, the impressive part was the trees and the effect you'd get going past.
Then there were other levels, like the alpine level, where there was essentially one big curve where you were looking out over this vast alpine vista, and at the same time going through this tunnel that had slats all the way - very European. It's really, really well designed, and you kind of see that in other games. Gran Turismo 5 had an alpine level that was very reminiscent of that OutRun stage. It was lovely and a really short track, but it still didn't capture that journey like OutRun did.
DET: How about the traffic placement?
Lycett: When we first got the code we assumed it was random, and it's not, it's all pre-programmed. So the same traffic will appear in exactly the same order every time. And again I think that must have been a very conscious decision they took so they could actually hone the gameplay. Even more so for OutRun 2 SP because of the slipstream mechanic where if you stay behind traffic you get a speed increase. Somebody sat down and designed the optimal route to tailgate all the traffic, even to the point where if you get there a little early on some stages, the traffic is almost in the perfect setup to be able to keep chaining cars.
It's one of those things a lot of players recognise and love the game for, which is that despite it being just a five minute thing, to pull off a perfect five-minute run is a real challenge. Fractions of a degree off with acceleration and steering make a huge difference. We must have broken the arcade machine four or five times with people just trying to get the high scores by switch-drifting, moving up and down the gears really quickly.
DET: What happens technically during those bits where you choose which route to take?
Mills: Those are called 'bunkis'. That's the Japanese word for them, their word for junctions. There were various elements of OutRun that we used the Japanese terms for because, when we got the assets through, everything was in Japanese.
Porter: It's absolutely a smoke and mirrors thing. The moment you get past the point of no return on the bunki, the point where you can kick everything out that's behind you, where you've got to the point where you choose to go left or right, that's when we start loading the next stage. So, you have about ten seconds to get everything loaded in. The way it came up and how the colour changed and the sky changed was very much a purposeful effect just to show it off.
Mills: That was one of the key nightmares when we suddenly reversed the tracks. The tracks weren't built to have those bunkis going the other way. You were supposed to drive round a corner and onto the track, not off a track into a long straight. That took some real work. You'd find that when you reversed a track, you'd come off a track backwards onto a junction section and then, as the new section was loading in, it was loading in over the junction you were driving in on because it was pointing in the wrong direction. We had all sorts of fun and games with that.
DET: And the cars? The Ferraris?
Mills: Those were works of art, they were really nice. Ferrari were very strict: those rear lights had to be absolutely perfect. But we were allowed to create our own bespoke Ferraris on Coast 2 Coast. We're the only company, still, that's been allowed to do an Enzo Roadster. There isn't an Enzo Roadster.
Lycett: We were all expecting a straight-out 'No, we're not going to do this, that's ridiculous.' But instead what they did is spend quite a lot of time with us designing paintwork and body kits to fit the cars as if they'd done it themselves, so you wound up with something really quite authentic.
What you normally get if you work with car manufacturers is that they're keen you don't show the car being damaged. You won't damage a Ferrari unless you work for Gizmondo. But Ferrari's thought is that the spirit of the game is to go on the most beautiful journey in the most perfect weather, and the car is part of that journey. There's this preconception that car manufacturers tend to be quite prima-donna-ish about it, but as long as you can explain to them the spirit and the ethos of what you're doing, generally you'll find they're quite supportive.
DET: Were there any quirks to putting the game on PC in HD?
Lycett: This would be a very British thing. If we'd have built the game from the beginning knowing it would end up in high definition, we'd probably have had higher definition textures. What we actually found when we were going through the game was that it was running absolutely perfectly from the arcade hardware, the Chihiro set, but you'd find that some textures were a very strange size. The Ferrari badge on the front of the cars is, on-screen, about what, four pixels? How big was the texture? It was 512x512. Obviously they were convinced that at some point you might see that close-up.
Now, we never got to see the code for OutRun SP Deluxe, which runs on the revised Lindbergh hardware - and that's the first time we actually did an HD version of the game. What we did was take all the textures and did some work on them to make them suitable for HD, but we never had HD textures. So it would have been interesting to see if they'd gone back and updated all the textures, not least because it was on a whacking great 40 or 50 inch screen.
DET: How pedantic were the Japanese when testing the game?
Mills: [Sega of Japan] were meticulous in looking at what we'd done against the original arcade machine; they literally went frame-by-frame through the levels side-by-side.
Lycett: I'm just going through that maze at the moment: I literally just finished off the Japanese version of All-Stars Transformed. I could tell you some stories about Japanese testing that would put your hair on end. Every time we've done a Japanese version of a game, because it's their home market - and specifically with OutRun 2 SP and the original OutRun 2 - it has to be perfect.
It were crazy because you're getting down to what was the end of a project - and bear in mind the game's already released in Europe at this point - and the Japanese testers were finding issues where they were playing through Floral Gardens and the flowers along one side of the road were one pixel off to the right. Most of the times in games where you get towards the end and you get bugs like that, you waive it. People were like, 'What?? We're not fixing that, that's crazy.' But with OutRun, because we had such a dedication to it and wanted to keep that relationship with Sega alive, we spent time literally moving flowers one pixel to the left.
Hood: It wasn't just that, either. Coming from the arcade version meant [players] had more time to stop and look at the scenery as well in our version, so there were bugs that do exist in the arcade but were more important for us to fix.
Lycett: And we gave them the ability to stop the timer in our version, so if they wanted to stop they could do. That's a mistake we didn't make twice.
DET: So the testers were good, then.
Lycett: The Japanese QA departments are absolutely fantastic. As much as it's difficult for us because we're trying to find strange and complicated bugs, they're very good at going into absolute detail.
One of the things I've got on the monitor for Transformed is a list of places where they've managed to crash the game. If they get a game crash there'll be a reproduction method, and somebody has gone through the exact steps they reported to you. And sometimes it can be things like: play a multiplayer game, play a singleplayer game, invite a friend, go into another multiplayer game, go and play for five hours in World Tour and the game crashes. The steps will be there and at the very top there'll be a thing saying, 'This was reproduced nought out of 40 times.' So, what they've done is reproduced that entire set of reproduction steps, including five hours of gameplay, 40 times to see if they can reproduce it.
There's a name for this. In Japan they have this cultural thing of: be the absolute best at whatever you do. If you're a train driver you're the best train driver, if you work in a shop you're the best person who's worked in a shop. It really comes through, not only in the games but when they're testing software or working with people. You never really get told off about something, there's just a polite insistence that you put the problem right.
DET: Were you getting a sense that just a select few people took disproportionate responsibility for the games? Do they take this stuff personally?
Hood: I think that was shielded from us, to be honest. It's only when you're dealing with them closely that you then get to deal with the people and address things personally with them.
Lycett: The majority of work that's handled overseas by Sega of Japan is done by a department called Overseas Business. What they do is assign a producer to a developer, and then we'll work directly with that producer. Typically they'll filter reports and approval requests back to you, and when we started with OutRun the producer was Minato-san [Nobuyuki Minato].
His responsibility was to make sure we were doing what the IP holders wanted, but we could also feed back to him and say if 'we can't do this for technical reasons.' He worked 16 hours a day. He came and spent time in the studio, and he'd be the first one in and the last one out. Seriously, he'd be there waiting for you to open the door and there until ten or twelve o'clock each night, and we'd often just put him in a taxi and say, 'Come on, Minato, that's enough for one day.'
Down the line, obviously, as things have grown, we tend to discuss things with the IP holder themselves direct. We're at the point where we'll just jump on a plane and fly across there because it's easier to do it face-to-face than over email. Not least when the original IP holder is Japanese and doesn't speak a lot of English, and will send what he wants to the producer who'll then translate it into English, and sometimes the meaning is lost. You'll act on what you think is being asked for and it'll go back through the chain, and they'll ask, 'Well why have you done that?'
But, bearing in mind what I've said before, as soon as you've made a suggestion to them face-to-face, it's a reality. So you've got to temper the suggestions with a thought in the back in your mind of, 'Um, can we do this?' It's just the way that business is conducted: your word is your promise. It's not about contract or time, it's your personal agreement.
Mills: Working on OutRun early on, and showing respect for the assets and how they were created, stood us in really good stead with Japan. We work with Japan a lot, and a lot of the reasons we've worked on Virtua Tennis and Sonic, and are trusted with those assets, is because we did a good job with what we had.
But it's not just Sega Japan, it's this team and that team - and each team's got its own head and all that. You're talking to Nagoshi about Monkey Ball and he puts you in touch with Isaki-san who says, 'Yes, I'll trust you with my IP because you did a good job for' such and such. It's extremely personal. If we hadn't done a good job on OutRun then we wouldn't have got near VT, and if we hadn't done that right we wouldn't have had Monkey Ball or Sonic or anything. We've always valued that relationship, it's always been about that relationship.
DET: What's this licensing business about then? Why can't people buy it?
Lycett: As far as I know, it's no longer for sale because the licence expired. What happens with the Ferrari licence is that it transfers to other people. When we did the game, I think Sega had actually sub-licensed the Ferrari brand from someone else. It's like a James Bond game: you can't sell that James Bond game after a certain date if someone else has got the licence.
Is it gone for good? Well, arguably. If you went to buy the Ferrari licence again, or somebody came into being able to do it, they could potentially sell the game again. Whether it would result in a load of sales is questionable. The beauty and the curse of OutRun is that it's well loved by a very specific group of players, but if you look at it, it hasn't been very good commercially.
Mills: There are those persistent rumours, though, aren't there - that we're doing another OutRun. We'd love to, but it's not for us to decide.