The Best Pun On Kickstarter: Ray's The Dead
Back from the dead, back on Kickstarter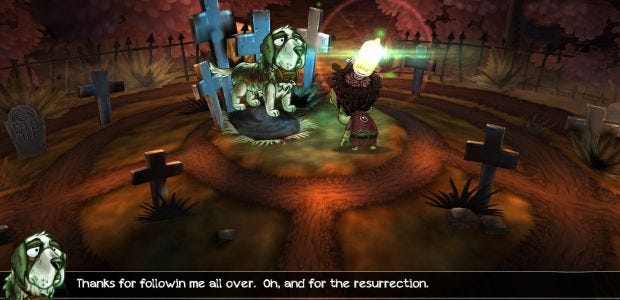 It's been a while since we've heard from strategy-puzzler Ray's The Dead, which first showed up at Sony's E3 conference in 2013. The eponymous Ray is a zombie with the power to control others, giving the game a great blend of dark humour and tactical party-based action. Developers Ragtag Studio went dark after an unsuccessful Kickstarter attempt, busily self-funding for the last year. Now they're back with a slicker Kickstarter that's doing far better, and a lower funding goal thanks to some outside assistance. Their plan is to use the $30,000 (£18k)--a target they've already hit--to hire contractors to improve specific areas of the game. The higher the total goes, the more they want to bring in as full-time staff.
Sadly Ragtag haven't released a demo so I don't know how it plays. The Pikmin inspiration is a great fit for the setting though, targeting different humans to produce the zombies needed to progress past puzzles or battles. I'm digging the Michael Jackson-y music too. It's also looking beautiful, with a lot more polish than many that go for crowdfunding.
What's most interesting to me is the dual narrative being told about both undead and alive Ray. It's done via flashback rather than linearly from one state to the other and the melancholic humour that seems to form the base is enticing. Despite over-saturation, I think there's still some interesting stories to be told, especially about loss, using zombies as a medium. They can provide drama, horror or comedy in equal measure, when used correctly.
Pledging about £9 would get you a copy of the finished game, which is looking at a tentative release window of May 2015.