The Curse of Monkey Island sails to Steam and GOG
I'm selling these fine leather jackets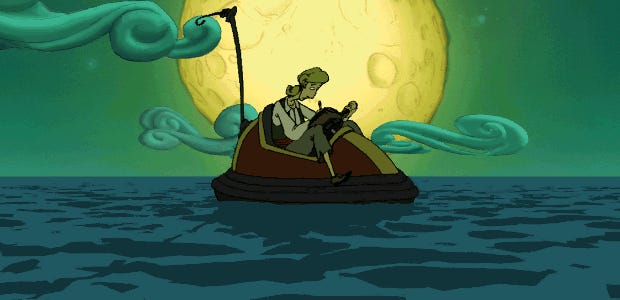 While half the RPS treehouse is swabbing the poop deck in Sea Of Thieves, today a truly mighty pirate has returned. Guybrush Threepwood's third adventure, The Curse Of Monkey Island, is now available on digital stores after years lost drifting in the Cybergasso Sea. Until now, the best ways to get ahold of the 1997 LucasArts adventure game were to deal with the freebooters on Amazon and eBay or to become a pirate yourself. Now it's just kicking around cyberstores for a fiver, whenever you want.
This is actually the first Monkey Island I played, and the one that most stuck in my head. Loading it back up now I am delighted by the cartoon art, the groovy rhythms, and the joys of bullying the terrible demon skull Murray. I... don't know how much more I remember? A big chicken. Jokes. Duelling banjos. Boring pirate ship battles? A horrifying case of sunburn. More bullying Murray. I am glad I can now easily revisit it, though maybe I'd be better with these warm half-memories?
Our Graham and John have both written about the game in recent years too, if you want better-remembered opinions.
The Curse Of Monkey Island is out now on Steam and GOG for £5.19/€6.99/$6.99. It runs through ScummVM, that natty open-source engine for LucasArts adventure games (and so many others these days). GOG also offer a discount on nabbing all the Monkey Island games in their store.
Oh, and Maniac Mansion is now on GOG. It's been on Steam for a while, and kinda been on GOG in a way too - hidden inside Day Of The Tentacle Remastered. But now GOG sell it separately too.