The fantastic Factorio has launched out of early access
Was already great in early access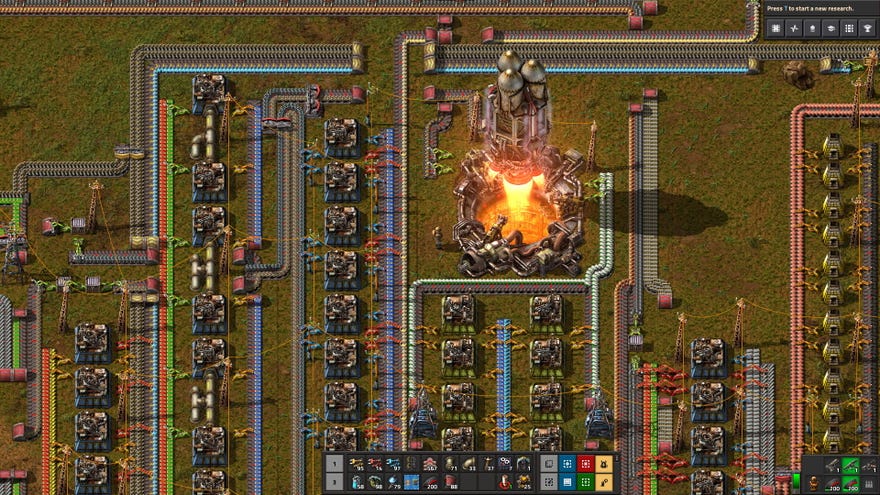 After seven years in early access, factory-building management sim Factorio is finally finished enough to launch properly. Update 1.0 arrived today and developers Wube Software have removed that "early access" label, though they're not done with patches yet. Factorio was already great in early access, plopping players on an alien planet to slowly build a vast network of mines, conveyor belts, processors, assemblers, defences, trains, cranes, pylons, and drones, until we've gone from chopping trees down manually to launching a rocket into space. Now it's bigger, prettier, and more polished. It has an updated free demo too.
"Show's over, building games. It's time to go home," our former Alec (RPS in peace) said after playing Factorio in 2016. "Seriously: I can't think where there is left to go after Factorio."
It really is... a lot. It has the pleasure of slowly teching up and expanding, the satisfaction of automating your processes, then the obsession of optimisation. Destroying a complex system which does work but sloppily so you can build a replacement doing the same job slightly better is such a treat. Especially when you get into splitting, merging, burrowing, and balancing networks of conveyor belts - there's little more pleasing than good conveyor layout. We've since declared Factorio one of the best management games.
A lot of the finished Factorio's additions actually came earlier this year, but version 1.0 has snuck in some new artwork, bug fixes, and a walking robotic spider, the Spidertron. You can drive the bot yourself or pilot it by remote control, you can build things from it, it can use equipment, it's armed with rocket launchers, it uses its horrible spiderlegs to walk over obstacles... seems neat. Check out the Factorio 1.0 patch notes for the lot.
Then once you've seen all the newness, perhaps you'll fancy trying some of the best Factorio mods.
Wube have also used v1.0 to remake Factorio's 2016 early access launch trailer, which I still think is one of gaming's greatest trailers. It's exciting, it reveals the process, progression, scale, and consequences of your industrialisation, and it all wraps up in under two minutes. Here's the new version, showing off all the art they've redone over the years:
Wube started selling Factorio alpha access in 2013, initially through a crowdfunding campaign, then brought it to Steam Early Access in 2016. This 1.0 launch is coming five weeks earlier than once planned because they wanted to get out Cyberpunk 2077's way. It seems this bump has consequences.
"We were doing the best we could, to fix all the relevant bugs and issues for the 1.0 release, but we just couldn't do everything," Wube said in today's launch announcement. "So we had to prioritise just the more critical stuff." An update 1.1 will follow, focused more on fixing bugs and other minor issues than new content.
Factorio is out now on Steam for £21/€25/$30. It is also available on GOG and from the developers, though both charge a few quid more than Steam. The 1.0 demo is available from Steam, GOG, and the the devs if our word isn't enough.
The game has been a clear influence on Satisfactory, a game best described as a 3D first-person Factorio because, well, it is. It's pretty good. Our boy Brendy's Satisfactory early access review said "when you see those huge assembly lines, encircling mountaintops like a giant sushi conveyor belt, you'll know they're your crowning achievement."