The Flare Path: Wingsuitable For All
Simulation & wargame blather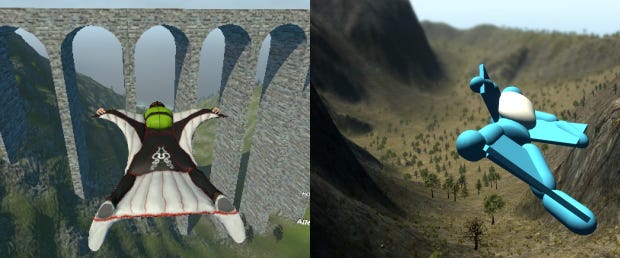 Turn up at The Flare Path Medical Centre suffering from depression and it's highly likely Dr. Merriweather MD, MBChB, ICBM, B&Q, QWOP will suggest you go hurl yourself off the top of a mountain. The good Doctor's advice isn't quite as callous or irresponsible as it first appears. He simply understands the restorative power of whizzo wingsuit games like Volo Airsport and Wingsuitflyer.
"inspired ecology and hints of culture"
For a while it looked like Volo Airsport had bought the farm or, at the very least, made a down-payment on it. Designer Martijn Zandvliet seemed more interested in hot air and cold climes than turning his mesmerising man-glider prototype into a fully fledged game. In a recent chat with Flare Path he explained the hiatus and outlined the future for a project that is now, happily, very much back on the front burner.
Martijn: You'll have noticed the complete lack of any output from me over the last year. I was stuck on technical details, and had little of an idea on where to take the game beyond the prototype stage, so I took a considerable break to work on other things.
RPS: The Aurora Wager?
Martijn: Yes. It was a wonderful design exercise. I learned to give direction to a game experience without restricting play, to listen to the design and hear where it wants to go, and that deep simulation does not exclude fiction, fantasy or frivolity.
I had a lot of trouble defining what Volo was, and working on something else gave me the critical tools I needed to figure that out. It strengthened the idea that Volo is not about experience points, competition, hunting, gathering, or dubstep-fueled adrenaline rushes. It is first and foremost about the simple acts of being and moving.
For a time I considered merging the two games, but thought better of it. There is significant conceptual overlap, but fear the design would devolve into a feature creep nightmare.
RPS: So what's the plan now for Volo? What aspects are you working on at present?
Martijn: Lots of plumbing, to start with! We're setting up a stable code base that we can build the rest of the game on, making sure the game works on a range of machines and is playable with a large selection of input devices.
Online multiplayer code is the big focus after that, and we'll find out exactly how difficult it is to synchronize fast-moving ragdolls over the internet. Due to various technical restrictions we expect high-level competitive play to be difficult to achieve. We could worry about that, and to an extent we do, but the the game will largely be about free-form cooperative play anyway. The occasional collision mismatch between connected players is less of a problem in the latter case.
The world around you is as important as the flight model, and we're working on conceptual and technical levels to flesh it out. This means bigger and more detailed terrain, but we're also applying a thin layer of fiction to help elevate it from the generic islands we started with. Don't expect narrative content or cutscenes, but more inspired ecology and hints of culture. I'll be working with Michael Manning to create musical soundscapes for the world, to be tightly coupled to physical space and environmental conditions.
A more distant feature is fully player-designed character motion. The active ragdoll system can theoretically perform any motion you can think of, and restricting it to a basic belly-down wingsuit flying pose would be a crime. The current idea is to provide a simple animation tool with which you can pull and twist your character into basic poses, and link your input to arbitrary muscle movement. This way, techniques like sit-flying and head-down flying are not explicitly programmed in by us, but can be achieved through experimentation.
RPS: Are there flight modelling issues still to be solved?
Martijn: There will always be some issues, but the most jarring ones from the prototype have been fixed. The aerodynamic behaviour no longer degrades as your framerate drops; the character and suit are now designed to be statically stable, making basic navigation much easier; stall characteristics are gentler, reflecting how the shape of your wings can change as you move; and some oddball drops in pressure have been resolved.
There are things I'd like to model better, such as the wing deformation and deflection of the air stream around the character. But I have a game to make, and I can do that with the current building blocks.
RPS: So what can we expect from the next version?
Martijn: Version 3 contains the handling improvements and plumbing work mentioned before. Keyboard controls are the number one requested feature, and I'm happy to report this feature is now working quite well! Any sort of gamepad still gives you an order of magnitude more control, but the game is certainly playable without one. When it comes to input configuration you can now map anything to anything, and various options for graphics scaling are now available.
I've shelved the streaming of larger terrains until version 4, but the improved lighting and shading is making its entrance. Oh, and there is proper support for virtual reality HMDs.
Becoming a believer
Hopefully, three months of silence from Viennese studio Becoming doesn't mean the other crag-caressing game currently in production, has collided with a developmental cable car. The last communiqués from the folk behind Wingsuitflyer were stuffed with dazzling terrain images and eye/mouth-wateringly ambitious plans.
Becoming want us to spend our spare time skylarking above a seamless 400km² island. If all goes to plan we won't just be wingsuiting off cloud-prodding peaks. We'll be buzzing about in helicopters and microlights, ferrying fellow skydivers around in fixed wing aircraft, and riding thermals and ridge-lift in sailplanes and hang gliders. There's even talk of users moving between the island's player-purchasable aerodromes via public transport systems and hitchhiking.
A framework of character stats and simple economics will, in theory, add some aspiration to the thrillseeking. Though essentially free to play, those too impatient to purchase kit, vehicles and airport facilities with flight- and stunt-generated cash will be able to cut corners with micropayments.
A hearteningly bold, totally workable idea or the fevered fantasies of a new studio with eyes bigger than their budget? It would be easier to be cynical if Becoming hadn't already proved they could turn wingsuiting into a profoundly pleasing PC pursuit.
Still available to registered members at Becoming.at is a Unity-powered, browser-based alpha. The terrain engine is more primitive than the one now lined-up, and all jumps end with a bone-crunching bounce (Parachutes were never implemented) but play for any length of time and, chances are, you'll end up a Becoming believer.
The Flare Path Foxer
Last Friday's Alice In Wonderland caucus-race was won by Stugle, Matchstick, Matchstick's colleague, JustAPigeon, TheWhippetLord, INinja132, phlebas, Jools and Jops, Shiloh, and CookPassBabtridge. As almost everybody won, almost everybody must get a prize.
"But who is to give the prizes?" quite a chorus of voices asked.
"Why, she, of course," said the foxer setter, pointing to Alice with one finger; and the whole party at once crowded round her, calling out, in a confused way, "Prizes! Prizes!"
Alice had no idea what to do, and in despair she put her hand into her pocket and pulled out a box of Flare Path flair points (luckily the salt-water had not got into it) and handed them round. There was exactly one a-piece.
a. Heinkel He 177 Greif
b. Caterpillar drive button from The Hunt For Red October
c. 'Would you tell me,' said Alice, a little timidly, 'why you are painting those roses?' Five and Seven said nothing, but looked at Two. Two began in a low voice, 'Why the fact is, you see, Miss, this here ought to have been a red rose-tree, and we put a white one in by mistake; and if the Queen was to find it out, we should all have our heads cut off, you know.
d. B. H. Liddell Hart
e. Leonard Cheshire
f. LMS 'Duchess'
g. Hedgehog mortar bomb
h. 'Lobster pot' helmet
i. "An evil cat in a plane"
********
Strange but true...
1. Henry Burden, the father of Foxering, was killed when his Fairey Fox crashed during the 1928 Hendon RAF display.
2. Two days before D-Day, the Manchester Guardian published, quite by chance, a Normandy-themed foxer.
3. The 'Renard Law' ensures all foxers produced in France contain at least one French aircraft, AFV, warship, war hero, philosopher or cheese.
4. This week's foxer would be illegal in France.